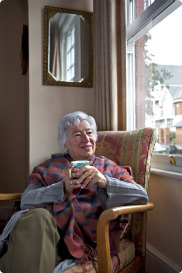 Holmfield is registered for the provision of residential care for 29 older people with no special nursing or mental health needs. There are 21 single rooms and 4 double rooms.
Services
The following are all included within the services Holmfield provides (this list is not exclusive): clean bed linen, weekly at minimum; clean towels, as required; all personal laundry; shave and denture cleaning daily; a choice of wholesome food & fresh fruit; drinks, including fruit juice, tea and coffee, squashes and milk drinks; assistance in arranging transport and access to community facilities; access to library services and access to a selection of daily newspapers; assistance with reading and writing letters; taking and accompanying Residents to hospital and GP appointments where a relative cannot do so.
Criteria for admission
Provided that, in the judgment of the manager, the facilities and services available at Holmfield are appropriate, there are no restrictions on admission. It is expected that the majority of residents will be over the statutory retirement age and will have had a Manchester connection.
Organisational Structure
Holmfield is one of a number of social care and ageing well services managed by Age UK Manchester Care Services Manager. In addition to the registered Manager, there are two Assistant Managers, four Senior Carers and 16 Care Assistants, a cook and ancillary staff. All employees are provided with induction and task specific training. Care staff is, as a minimum, registered for training to National Vocational Qualification (Level II) in Care.
Social Activities
There are 3 lounge areas, one of which is designated as a quiet space and an attractive garden. Meals may be taken in the dining room, or in one of the lounges. Residents may also take their meals in their own room, if preferred. This building is a no smoking area and smoking is only allowed in a designated area. Activities are arranged both by the Holmfield management and by Ageing Well workers employed by Age UK Manchester in South Manchester. Representatives of local faith organizations visit from time to time and residents are asked if they have any specific needs.
Consultation
Holmfield has a Residents and Relatives Group that meets regularly to discuss developments and any areas of concern.
Complaints
Age UK Manchester operates a formal complaints procedure and leaflets and forms are available in the entrance hall at Holmfield, on request from staff, or from our head office. The address of Manchester City Council Adults and Social Care (Tel: 0161 234 5000) and the Care Quality Commission (Tel: 03000 616161) are also publicized. Emergency Procedures Prominently positioned signage mark the means of escape in case of fire and prominently positioned notices set out the procedure to be followed if a fire or other emergency affecting health and safety within the building is identified.
Care Plans
Each resident has a service user plan. It states the care to be received, including any particular additional services that have been agreed. At least once a year there will be a review of the Care Plan that will be attended by the resident, any family members who wish to come along, the Holmfield Manager and, if funding is received from local authority, the Care Manager. The review will either confirm that the Care Plan is appropriate or result in a new Care Plan for the coming year.
Privacy and Dignity
The residents of Holmfield can expect to be treated with respect, and to have their right to privacy upheld in visits with relatives and friends, meetings with legal and financial advisors, the giving of personal care, and medical examinations and treatment. The residents preferred form of address will be used and residents are welcome to use the telephone. Mail will be delivered unopened.
Charges
The only additional items for which Holmfield will charge directly are: professional hairdressing; professional private chiropody services; personal interest newspapers/magazines; dry cleaning; alcoholic beverages; entertainment provided off site; confectionery; stationery; soaps and toiletries specifically chosen by the resident; clothing; cosmetics; tobacco and private phone lines.
Car parking
There is limited car parking on our drive and forecourt at the front of the home for the use of staff and visitors. There are no parking restrictions on Darley Avenue and visitors are welcome to park on the road outside the home. We do ask that visitors respect our neighbours and do not block access to their house entrances.
Facilities
Residential Care at Holmfield
Related links