Resident's Guide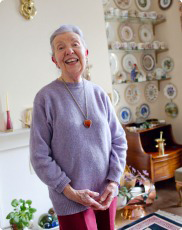 We aim to make life for residents at Holmfield as pleasant as possible and are always open to suggestions about how we can do things better.
This leaflet tells you about the minimum standards which residents at Holmfield can expect and the terms to which you agree when you become a resident at Holmfield.
Care Plan
Each resident has a Care Plan which forms part of this agreement. It states the care you are to receive, including any particular services which have been agreed for you.
At least once a year there will be a review of your Care Plan which will be attended by yourself, any family members who wish to come along, the Holmfield Manager and, if you receive funding from the local authority, your Care Manager. The review will either confirm that the Care Plan is appropriate or result in a new Care Plan for the coming year.
Key Worker
Holmfield will name a Key Worker to take a particular interest in your well-being and make sure you are getting the care you want, in the way you want it.
The Building
This will be kept in good order and be decorated and furnished in an attractive and homely manner. Except when there is a clearly identified risk to your well-being, you will be able to move freely around the building.
Bedrooms
You have a right to privacy. You will have access to your room at all times of the day and night. Nobody else will have automatic right of access except by prior agreement or in an emergency. You will only share your room if you have agreed in advance. You will not be moved to a different room without giving agreement, except for your own safety. Your room will contain an emergency call system within easy reach. Staff on duty both day and night are expected to respond straight away to emergency calls. You should be able to lock your room using equipment approved by the Fire Service. Your room will have lockable storage space.
Medicines
A lockable, safe storage place will be provided within each bedroom. Where you are capable of administering your own medication you will be enabled and encouraged to do so.
Religious and Spiritual needs
Representatives of local faith organisations visit from time to time. Please see the notice board for details and ask a member of staff if you have any particular requests.
Communal Areas
You have a choice of 3 lounge areas, one of which is designated as a quiet space. Meals may be taken in the dining room, which has French windows leading to the patio, or in one of the lounges. Residents may also take their meals in their own room, if preferred. There are designated no smoking areas.
Furniture
You are encouraged to furnish your bedroom with your own furniture and personal effects so long as it complies with fire, health and safety regulations. Furniture and fittings provided by Holmfield will be domestic in nature and be suitable for the needs of all residents.
Bathrooms and Toilets
Holmfield offers a variety of bathing facilities – ordinary baths, showers, and a specialised bath for people with disabilities. Appropriate lifting aids are available for people who need them. All hot water systems will be fitted with temperature control devices to prevent scalding. All toilet and bathroom doors are lockable by Residents but staff have access in emergencies.
Heating and Lighting
Lighting controls are positioned to allow easy use by Residents. If need be, controls will be adapted or aids provided to achieve this. Radiators are fitted with covers. You are also able to open a window for ventilation.
Garden
Holmfield has pleasant gardens, with a variety of mature trees and shrubs, and raised flower beds. Areas of shade and seating are provided. Level paths with a suitable surface give access to all points of the garden. Residents are encouraged to get involved in planning and enjoying the garden.
Staffing
Holmfield employs sufficient staff to care for the Residents and we ensure the staff have the necessary expertise and competence to carry out the tasks they are asked to perform. Staff receive as a minimum, the training laid down by the Council or Primary Care Trust, and are encouraged and supported in their professional development.
Communication and Complaints
Holmfield has a Relatives Group which meets every eight weeks to discuss developments and any areas of concern.. Residents or relatives requiring the support of an advocate should contact Age Concern Manchester's Head Office on 0161 833 3944. There is also a Complaints Procedure. Leaflets are available in the entrance hall at Holmfield, on request from the staff, or from our head office.
If your complaint is not resolved you may also contact: Manchester City Council Adult Social Care: 0161 234 5000 or The Care Quality Commission: 03000 616161
Charges for Services
The only additional items for which Holmfield will charge you directly are: professional hairdressing; professional private chiropody services; personal interest newspapers/magazines; dry cleaning; alcoholic beverages; entertainment provided off site; confectionery; stationery; soaps and toiletries specifically chosen by the Resident; clothing; cosmetics; tobacco; private phone lines.
The following are all included within the services the Home provides (this list is not exclusive): clean bed linen, weekly at minimum; clean towels, as required; all personal laundry; a choice of wholesome food; drinks, including fruit juice, tea and coffee, squashes and milk drinks; assistance in arranging transport and access to community facilities; access to library services and access to a selection of daily newspapers; fresh fruit; shave and denture cleaning daily; assistance with reading and writing letters; taking and accompanying Residents to hospital where a relative cannot do so.
Residents' Obligations
Residents will at all times, to the best of their ability, comply with any reasonable rules or directions of the Home. They will treat the staff and other Residents with courtesy and consideration.
Visitors and Outings
Your family and friends are encouraged to visit regularly and we hope that they feel welcome. You may offer your visitors a cup of tea or coffee, which the staff will provide, and visitors may join you for a meal if you arrange this in advance. You are welcome to join outings or take pre-agreed trips accompanied by staff or relatives. Trips out with relatives or friends, or on your own, are at your own risk.
Valuables
You are responsible for the safe-keeping of your own money, documents like pension books, and other valuables and possessions unless deposited in the safe. You are encouraged to use this and be given receipts where money or articles are put in the safe. Details of deposited items will be kept in the register.
Health Care
Coming to live at Holmfield in no way diminishes your right of access to health and remedial services available in the community. This includes the right to choose your own GP and see them in private. Please note however that it will then be the GP's decision as to whether or not he or she is willing to provide the service to you; in many cases it is only the local GP practice which will agree to have people from a Residential Home on their list. You also have the right to access community nursing services, and District Nurses visit twice a week.
Further Information
If you would like any further information about residential care services and the standards you can expect, please contact the Care Quality Commission. Their telephone number is 03000 616161
Residential Care at Holmfield