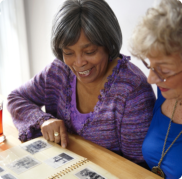 Holmfield has been owned and operated by Age UK Manchester (formerly Age Concern Manchester) since July 2006. Prior to this the home was privately owned.
The original owners of the home opened a small residential home at number 4 Darley Ave. When the neighbouring property was put up for sale they bought the house and then built a modern link extension between the two houses. We are now registered to accommodate up to 29 older people at any one time.
Age UK Manchester had been providing services for older people in the Manchester area for a number of years and it was felt that the acquisition of a care home would be a welcome addition to the other services provided and could help us to offer an individualised service for older people in need of residential care. Holmfield seemed like the perfect place to develop this service.
Since Age UK Manchester took over the running of the home in 2006 a lot of time and effort have been invested in developing the service and updating the skills and knowledge of the staff group. Extensive funds have also been spent in updating the fabric of the home including upgrading the fire, electrical and heating systems and installing a new up-to-date aid call system.
We now offer residential care, respite care and day care here at the home and have a stable staff team who try hard to meet the needs of the residents in our care.
Residential Care at Holmfield