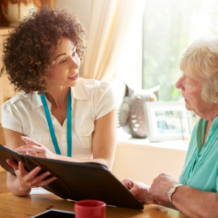 We offer information, advice and support regarding scams to people aged 50+ in the city of Manchester. One to one advice sessions can be tailored to the client's needs, giving information on:
How to spot a scam
How to keep yourself safe from scams
Staying safe online
How to report a scam
Signposting to support services for scam victims
One to one support and home visits
If you have been targeted by a scammer, you should never be afraid or embarrassed to speak up. Our scam support staff are here to provide a listening ear and to help and support you. One to one scam advice sessions are held in the comfort of the client's own home and are free and confidential.
Community talks
We also deliver talks to groups in the city of Manchester to raise awareness of scams and how to protect yourself from them. If you are interested in attending a group talk, or if you would like a member of our scam support staff to come and give a talk to your community group, please give us a call for more information. Group talks are free to attend and free to book.
Professional referrals
If you area professional working with someone at risk of or who has been a victim of a scam, you can refer them into the project by completing a referral form.
Get in touch
To find out more, contact us on 0161 833 3944 or email advice@ageukmanchester.org.uk