Find out here about activities and events taking place at Age UK NE Lincs
Regular activities
Here at Age UK North East Lincolnshire we have a regular lunch club with hot delicious food and friendly faces, every Tuesday, Wednesday and Thursday at our Grimsby office ONLY.

Bingo

We have Prize Bingo at Age UK North East Lincolnshire at both our Grimsby & Cleethorpes offices.

Monday afternoons Starting at 2pm at Grimsby,

Thursday mornings at 10am at Cleethorpes.

10 games played in the afternoon & 4 games played in the morning. Prices vary depending on how many games and sets you want to play.

Refreshments of Tea/Coffee and Biscuits are included. Snacks are also available at the pop-in cafes.

Exercise classes

Here at Age UK North East Lincolnshire we have classes on a Monday morning for people aged over 55, to help you stay fit and healthy in later life. All abillities are welcome.

We have Tai Chi and Chair based exercises.
Afternoon / Day trips & events coming up
Day Trips and events -

Contact us for our regular day trips. They are dependant on weather and vary throughout the year but we have had regular trips to Junction 32 shopping outlet, York, Brigg and Brigg garden centre, lunches out, seaside trips to Scarborough and Whitby as well as the half day trips to coffee shops and garden centres.

If there is anywhere you think would be good for us to vist, please pop in and recommend it to us as we are always looking for new ideas for trips.

Ring 01472 344976 option 1 for Grimsby & option 2 for Cleethorpes to find out what our latest trips and prices are.

We all enjoyed a beautiful meal with a sing song and even a dance on a recent trip to Millstones. A thoroughly enjoyable day which we hope to do again this year. Ring us to check the dates and availability of our day trips.

We have regular events to recognise Macmillan day, Royal Events, Easter raffles, Christmas raffles etc .These are all great ways to get together, have some fun and raise money for a great cause.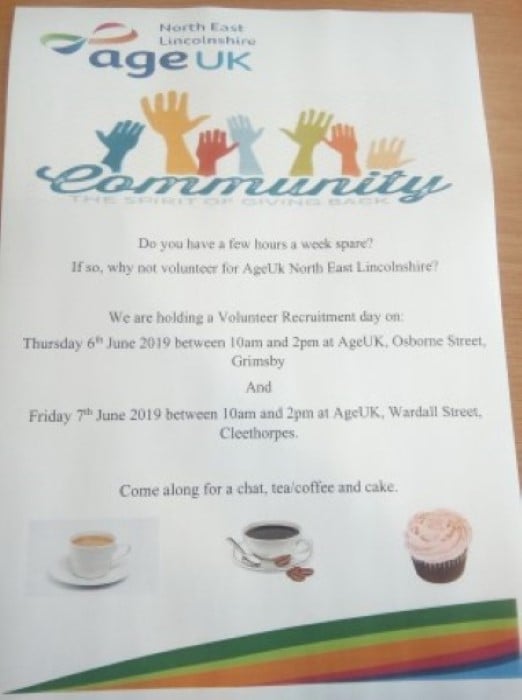 Fundraisers
Show off your creative knitting and help us raise money by knitting hats for Innocent smoothie bottles.

You can drop any of your hats off to us at either the Grimsby or the Cleethorpes office and we will forward them to the National Campaign. A great fun way of raising money for your local services.

An innovative way we fundraised last year was to enter the Cleethorpes summer carnival, all dressed in fancy dress walking the whole of the route collecting money for the charity along with raising awareness of our services. A great fun way to raise money.