Information, advice and benefits
Age UK North, South & West Dorset offers a free and confidential information and advice service for older people, their families and carers.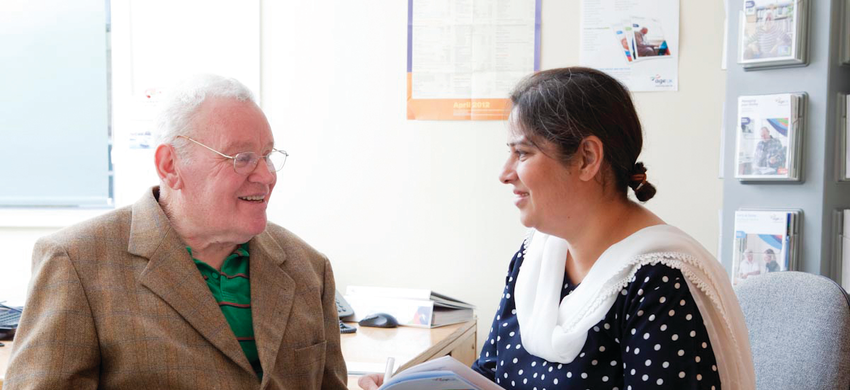 How to access the service
You can access our information and advice service in a number of ways.
By phone: 01305 269 444
By email: enquiries@ageuknswd.org.uk
At our office: Book an appointment at Rowan Cottage on Prince of Wales Road in Dorchester.
Opening times:
Our information and advice officers are available Monday to Friday, 9am to 4pm.
Topics we cover:
Our advisers are trained to help you on the following topics.
Social care - such as finding a care home or getting some help at home, and how it's funded.
Your income - including free benefits checks, help with applying for benefits and pension advice.
Your home - information on staying warm at home, home adapatations and how to prevent falls.
Legal issues - such as wills, Power of Attorney, and how to deal with an estate.
Advocacy
Advocacy respects people's rights to control their own lives and make their own choices, helping to identify and represent a person's views and concerns. For many it is a vital service which covers a wide range of issues including access to services, understanding and accessing information, and safeguarding quality of care and social needs. The support is for anyone aged over 50, however, it is mainly aimed at those who are disadvantaged for any reason. Many people who use our service have little or no contact with others.
Money and Benefits
We can carry out benefit entitlement checks, and provide support in making a claim, such as filling in forms. We challenge benefit authorities by helping older people appeal or seek a review of decisions by referring on to an independent advice agency. Appointments can be made by contacting our office, and the locations/dates of sessions can be found in our most recent newsletter or on the calendar.
Wills Surgery
Age UK North, South & West Dorset holds a by appointment Wills surgery every few months. Individuals can come and ask an expert questions about Wills, powers of attorney and other legal aspects of home and finances. See calendar for future dates.
Planning and support for End of Life
Thinking about the end of life can be difficult, but being well informed can help you consider all your options. Age UK's information guide, 'Before you go' talks about conversations with family and friends, and your GP. It also provides information about finances, advance statements, making a will, lasting powers of attorney, funeral arrangements, care at home, care homes, and thinking about your loved ones. 'When someone dies' gives a step-by-step guide to what to do, including how to register a death, death abroad, organ donation, arranging a funeral, help with funeral costs, dealing with the estate, tax changes, inheritance tax, and emotional support. 'Bereavement' provides support dealing with grief, feelings, thoughts, memories, and looking to the future.
Free booklets and online information
Age UK produces free information guides and factsheets on a wide range of topics, including home adaptations, dementia, and advice for carers. You can find a complete list of guides and factsheets on the Age UK national website.

If you prefer to read information online, the Age UK national website has information and advice on many topics, including how to find a care home, how to avoid scams, and Power of Attorney.