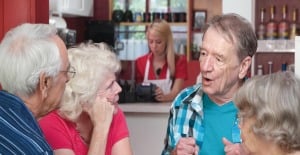 Whether you are an individual or part of a small group wanting to extend your social network, we aim to put people first and help them love their later life. There is no need to feel lonely or isolated. We have a willing group of volunteers or befrienders who can help you.
Some of the activities we run:
Day centres with organised activities
Weekly activities
Monthly get-togethers
Small friendly groups who are always looking for new members
Energetic activities for those who are fitter or want to improve their fitness
Occasional day trips to local tourist attractions
Cuppa Club
Come along, buy a cuppa and have a chat
Whitley Bay at Rendezvous Cafe, Duke's Walk, NE26 1TP on Tuesdays 2:00PM.
Ladies Friendship / Social Group
Take part in various leisure activities e.g. playing cards and outings throughout the year. New members are always welcome to this social group.
North Shields at St Peter's Church Hall, Central Avenue, NE29 7JA on Thursdays from 11:00 AM to 2:00 PM. Cost: £3.00
LGBT Groups
Come along and have a chat and a cuppa with other LGBT people.
The Transgender group meets in Whitley Bay at Age UK's Whitley Bay Training Centre, Park Road, NE26 1LT 1st and 3rd Wednesday of every month from 7:00 PM to 9:00 PM. Cost: £2.00

LGBT Social Network for 50+ Come and join our LGBT social network for people aged 50+. Next meeting Sunday 20th May and Sunday 17th June, 10am at Cullercoats Coffee, John St, North Shields NE30 4PL. For more information please call 0191 2877012



Meals Out with Friends
We support two groups that meet every week in different parts of the borough. All are run by very capable, friendly volunteers who are waiting to welcome you We try to ensure that the cost of each outing is no more than £10. Please see the programme for further details.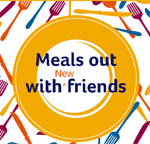 Men's Groups
Coffee...chat...newspapers...try out new activities...trips out.
Wallsend at Cedar Grove Wellbeing Centre, Cedar Grove, NE28 6PR. Meets fortnightly on Fridays from 12:00 PM to 2:00 PM. Cost: £2.00 Download our leaflet
Wideopen at Wideopen Library, Canterbury Way, Wideopen NE13 6JJ. Meets on the 1st and 3rd Monday of every month from 10.00 AM to 12.00 AM. Cost: £2.00