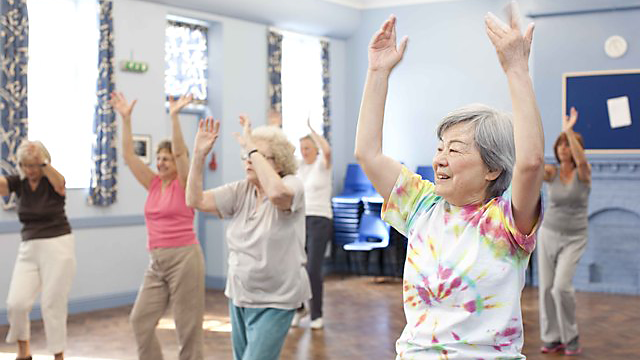 We host a variety of weekly activities and monthly group gatherings for you to take part in. You can choose what's right for you and join in, whether you want to stretch your muscles or your mind, we've got something for everyone.
Keeping Fit
Healthy exercise for all abilities
Active For Life: Wallsend at Allen Memorial Church Hall, Park Road, Wallsend, NE28 6QY on Fridays from 9:30 AM to 10:30 AM. Cost: £2.50
Seated Exercise Class : North Shields at The Linskill Centre, Linskilll terrace, NE30 2AY on Tuesdays. Please call for further information.
Seated Exercise Class: Wallsend at Battle Hill Multi Use Centre, North Bray Close, NE28 9RJ on Mondays from 11:00 AM to 1:00 PM. Cost: £1 (Currently full - Please call prior to attending to check if available spaces)
Gentle circuits: West Moor at West Moor Community Centre, Benton Lane, NE12 7NP on Tuesdays from 10:30 AM to 11:30 AM. Cost: £2.50
Gentle Excercise: Whitley Bay at St Paul's Church Hall, Whitley Road on Thursdays from 2:00 PM to 3:00 PM. Cost: £2.50
Walking Sports:The Parks Sports Centre,North Shields, NE29 6TL, Every Friday throughout October 2018 from 2pm-3pm. Cost FREE to 50 plus. More details
Walking Football:

The Lakeside Centre, Killingworth 2:00pm - 3.00pm every Monday.
Foxhunters, North Shields 7:00pm to 8:00pm every Tuesday and Wednesday.
The Parks, North Shields 2:30pm to 3:30pm every Wednesday.
Hadrian Leisure Centre, Wallsend 6:30 pm to 8:00pm every Thursday.

All the above walking football sessions are free. Just turn up and play. See the downloads section below for more details.
Tai Chi
Gentle exercise to strengthen muscles, improve circulation & posture, relax mind & body
Longbenton at Oxford Centre, West Farm Avenue, NE12 8LT on Thursdays from 10:00 AM to 11:00 AM. (school term times only). Cost: £4.00.
North Shields at Christ Church Parish Centre, Preston Rd, North Shields NE29 0LW on Wednesdays from 12:00 AM to 1:00 PM. Cost: £3.00
Wallsend at Wallsend Customer First Centre, The Forum on Mondays from 2:30 PM to 3:30 PM. Cost: £3.00
Whitley Bay at Foxhunters Pavillion, Rake Lane, North Shields, NE29 9QA on Mondays from 10:30 AM to 11:30 AM. Cost: £2.00
Wideopen at St John's Church Hall, Canterbury Way, Woodlands Park, Wideopen, NE13 6JQ on Mondays from 1:30 PM to 2:30 PM. (school term times only). Cost: £5.00
Willington Quay at St Paul's Centre, George Street, NE28 6SL on Wednesdays from 10:30 AM to 11:30 AM. (school term times only). Cost: £4.00
Ten Pin Bowling
Everyone welcome, from never-played-before to experienced player.
We play every Thursday commencing at 12.00 noon at Star Bowling Royal Quays
North Shields at Star Bowling, Royal Quays on Thursday from 12 noon. Cost: £4.00 for two games (including a cup of tea)
Yoga and Relaxation
Exercise to relax mind & body
Forest Hall at Springfield Community Centre, NE12 9AG on Wednesdays from 1:00 PM to 2:00 PM. Cost: £2.50
Zumba Gold
Get fit in time to music
Wallsend at Wallsend Customer First Centre, The Forum on Fridays from 10:30 AM to 11:30 AM. Cost: £3.00
Document Downloads:
You can view or download the relevant leaflets by clicking the appropriate link below