Covid 19 - Suspension of Activities and Events.
Because of the Corona virus pandemic and the lockdown regulations, we have had to suspend for the time being our normal social activities for older people. In the meantime we hope that you will keep visiting our website and watch for new developments on our News page or visit our Spring into Action, Keep fit in Lockdown and Social Events in Lockdown pages.
We are cautiously moving forward to look at the re-opening of all our regular activities and we really appreciate your patience and understanding with these matters. This is a difficult and challenging time for us all, however we remain optimistic with regard to our groups starting again.

If you would like to discuss any of these issues, please call 0191 2808484 and the customer services team can pass your call to the relevant member of staff, or alternatively you can email our Active Age Coordinator at laurie.zebik@ageuknorthtyneside.org.uk.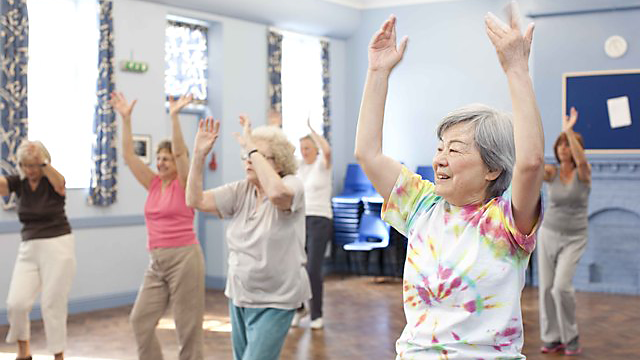 We host a variety of weekly activities and monthly group gatherings for you to take part in. You can choose what's right for you and join in, whether you want to stretch your muscles or your mind, we've got something for everyone.
Maybe you want to take part in physical activity, but don't feel up to it? Our Active Age Service could give you the support and advice you need.
If you have been physically active in the past
Would like to get active again and might need support, advice or motivation to get going
Are less active now because you have had changes in your life that make getting going again difficult
There are more details on our Active Age Service page or
Keeping Fit
Healthy exercise for all abilities
Active For Life: Wallsend at Allen Memorial Church Hall, Park Road, Wallsend, NE28 6QY on Fridays from 9:30 AM to 10:30 AM. Cost: £2.50
Improving Strength and Balance (Currently full) North Shields at The Linskill Centre, Linskilll terrace, NE30 2AY 1:30 to 2:30pm Cost £4. Please call to book a place / be added to the waiting list 0191 287 7027
Seated Exercise Class : North Shields at The Linskill Centre, Linskilll terrace, NE30 2AY on Thursdays from 10:30 to 11:30 am. Cost £2.50.
Seated Exercise Class: Wallsend at Battle Hill Multi Use Centre, North Bray Close, NE28 9RJ on Mondays from 11:00 AM to 1:00 PM. Cost: £1 (Currently full - Please call prior to attending to check if available spaces)
Gentle circuits: West Moor at West Moor Community Centre, Benton Lane, NE12 7NP on Tuesdays from 10:30 AM to 11:30 AM. Cost: £2.50
Gentle Exercise:

Whitley Bay at St Paul's Church Hall, Whitley Road on Thursdays from 2:00 PM to 3:00 PM. Cost: £2.50
Wallsend at Wallsend Customer First Centre on Fridays from 9:30 AM to 10:30 AM. Cost £2.50

Walking Football:

The Lakeside Centre, Killingworth 2:00pm - 3.00pm every Monday.
The above walking football sessions is free. Just turn up and play.
Walking Football Skills – a slower paced skills and drills session with a short match at the end
The Parks, Howdon Road, North Shields, NE29 6TL Friday 2-3pm
Tai Chi
Gentle exercise to strengthen muscles, improve circulation & posture, relax mind & body
North Shields at Christ Church Parish Centre, Preston Rd, North Shields NE29 0LW on Wednesdays from 12:00 AM to 1:00 PM. Cost: £3.00
Wallsend at Wallsend Customer First Centre, The Forum on Mondays from 2:30 PM to 3:30 PM. Cost: £3.00
Whitley Bay at Foxhunters Pavillion, Rake Lane, North Shields, NE29 9QA on Mondays from 10:30 AM to 11:30 AM. Cost: £2.00
Yoga and Relaxation
Exercise to relax mind & body
Forest Hall at Springfield Community Centre, NE12 9AG on Wednesdays from 1:00 PM to 2:00 PM. Cost: £2.50
Download a leaflet
You can read these on line, print out or share with a friend