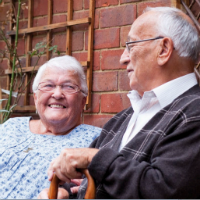 At Age UK North Tyneside we are committed to helping people with dementia,
their families and carers to continue to live fulfilling and rewarding lives.
We provide a comprehensive dementia support service, led by our experienced
team of Admiral Nurses, which incorporates a wide number of activities to help
assist people along every step of their dementia journeys.
Download our Dementia Connections overview leaflet
To find out more on specific services, click on any of the links below:
Social and Activity Groups:
Craft Group
Memory Cafés
Singing Groups
Peer Support Group
Time Travellers @ The Museum
Dementia Support:
Admiral Nurses
Admiral Nurses are specialist dementia nurses who give expert practical, clinical and emotional support to families living with dementia to help them cope. In North Tyneside the Admiral Nurses work within the Dementia Services team at Age UK North Tyneside.

How an Admiral Nurse could help you
One to One Support
Emotional and practical support for people living with dementia and/or carers.

Our Dementia Support Officers can meet with you to find out what support would be helpful. They can provide a listening ear, advice and information about dementia, and signpost you for more specialist advice such as council tax exemption or benefits.
For more information on any of the above
Related Links