Dementia Connections Case Studies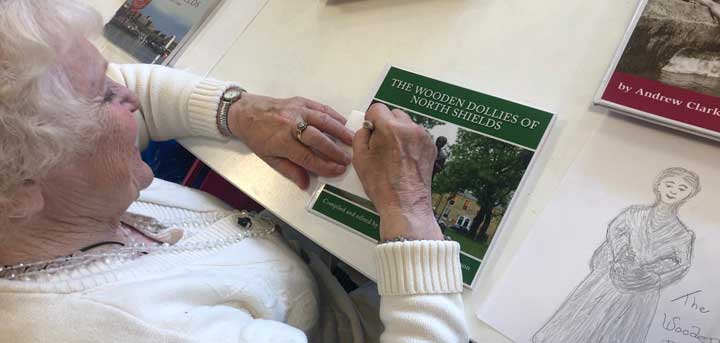 The aim of the Age UK North Tyneside Dementia Strategy is to embed and improve the understanding of the design, delivery and marketing of support for older people living with dementia and their carers through developing a suite of coherent dementia specific services.
1. Gillian's Mum and the Social Groups
Gillian from Wallsend is the main carer support for her Mum who lives alone and was diagnosed with Alzheimer's over three years ago. Not long before her diagnosis her husband had passed away leaving her literally staring at four walls during the day without stimulation or company. Our Dementia Connections team first visited with Gillian and her Mum in September 2016 when they shared useful and local information on services they could access including our own Wellbeing and Social Activity Centre, Cedar Grove in Wallsend.
Very soon after taking part in a free taster session at Cedar Grove Gillian and her Mum both decided that this was the perfect place for her to make new friends and participate in the interactive activities which take place on a daily basis there. In addition to this Gillian and her Mum tried several different Dementia Connections groups to see what met both of their needs. They now regularly participate in Singalong Memories and our Whitley Bay Memory Cafe delivered by the Dementia Connections team based here in North Shields.
This offers a stimulating and enjoyable activity for people living with dementia and their carers. It's an opportunity to meet others in a friendly and relaxed environment and refreshments are available. Our dementia specific activities include; memory cafes, craft groups, peer support and singing groups as well as 'time travellers' which take place at Segedunum Museum, Wallsend.
Gillian said "Without the groups Mam would be bored. The stimulation has really helped her memory and helped her to stay active. The singing perks her up for the day even if she can't remember she's been. The staff and volunteers are fabulous, Mam just loves the company. 11/10 for everybody".
Gemma Musson our Dementia Services Coordinator said "Gillian is the main carer for her Mam, and they come together to our singing group and memory café. Gillian's Mam is a very sociable lady who thrives with social interaction and stimulation. As such, the groups have been, and continue to be, of great benefit to her. They also provide an opportunity for Gillian to discuss any concerns and seek advice from our coordinators in an informal setting. Gillian herself is an asset to us in welcoming and supporting newer customers, and there is huge value to our customers in accessing this type of peer support"
2. Christine's Music Therapy
Dementia has detrimental effects on cognitive, psychological and behavioural functioning, as well as a significant impact on the carer. There is a need to find suitable psychosocial interventions to help manage the condition, enhance wellbeing, and to provide support for caregivers. Our Singalong Memories group was developed to do just that. Music as therapy refers to the impact of music upon the psychological aspect of an individual; it can be used to improve mood, regulate emotion and relieve stress. Music can arouse and provide pleasure.
Christine lives alone in Whitley Bay and was given a diagnosis of dementia in 2018. She was referred to the Dementia Connections team by the Memory Clinic on Hawkey's Lane in North Shields as she was looking to participate in local activities.
Her family live in Durham and she has friends living locally but wanted "something to do that I would enjoy and would be good for me".
Christine said "Everybody can just be themselves here and I just love coming. It's set up well. I've got to know people and it's good to have a laugh with people too. It's nice having a cup of tea and a chat afterwards. If I struggle with anything there's someone to help. It's nice that there's always someone to talk to and if I don't know the words to sing you can just jiggle along".

Christine is now a regular member of the Singalong Memories group, which take place at Forest Hall and North Shields and is run by the Dementia Connections team based here in North Shields.
Singalong Memories provides a stimulating and enjoyable activity for people living with dementia and their carers. It's an opportunity to meet others in a friendly and relaxed environment and refreshments are available.
Gemma Musson our Dementia Services Coordinator said "Christine is a fantastic member of our singing group, has developed friendships there and is hugely supportive of other members. She has overcome her initial nerves about travelling and attending alone, and with a little support to organise taxis at the start, now manages independently with confidence."
3. Harry and Joan and the Crafts Group
Crafting is often used as a source of art therapy for those living with dementia. It lessens a person's anxiety, reduces feelings of isolation and brings about a general feeling of happiness. If people living with dementia choose to paint or color as their craft, it can also bring them back to happy memories when they were children.
Crafting can also help battle depression. Studies have shown that a simple activity like painting or knitting can allow the brain to release dopamine which serves as a natural anti-depressant within the body. These feel-good non-medicinal chemicals are beneficial for people who may be dealing with depression. It can help build confidence and give people a sense of purpose. Being able to complete a project helps people feel like they can accomplish things. This is extremely beneficial for people who may feel like they can't do the same things they once did. Crafting can also foster a feeling of togetherness.
Harry and Joan live in Whitley Bay, having re-located from Scotland, after his wife was given a diagnosis of dementia. Harry is Joan's main carer.
The couple first accessed our Dementia Connections service based here in North Shields in April 2017, when they were looking for both advice, support and activities related to their shared interests, which were art and crafts. The couple were provided with a dedicated coordinator to help them to navigate the raft of services available to them locally.
Harry and Joan are now the longest members of the Dementia Connections Craft Group, where the activities include; card making, ceramic and jewellery making, decoupage, mosaic and much more. It provides a stimulating and enjoyable activity for people living with dementia and their carers. As well an opportunity to meet others in a friendly and relaxed environment, refreshments are available.
Harry and Joan now also access the Memory Café and Singalong Memories groups also run by the Dementia Connections team.
Harry said "Apart from the art side I enjoy the company. These people are so very lovely and I look forward to all the groups. It's a good break from home for us both." Joan said "It's nice that there's always somebody that'll chat to you".

Sarah-Jane Scott our Dementia Services Coordinator said "Harry and Joan are a very friendly couple who have not only grown in confidence themselves but have welcomed and encouraged new members into our groups. Joan regularly comments on the enjoyment she gets from participation in Craft group".
4. Brian and Music Therapy
Brian is 85 and lives alone in sheltered housing in the Forest Hall area he started coming to the Singalong Memories group approximately twelve months ago after moving to North Tyneside.
As he was new to the area, Brian felt socially isolated and he also wanted to get out and meet new people.
After hearing about Singalong Memories he wanted to get involved as he has always had a keen interest in music and has performed and sung all his life.
Brian was welcomed to the group and introduced to Lynsey, Dementia Service Coordinator from the Dementia Connections team who he chatted with and instantly became a part of the group. He made friends from the very first group he attended. Since then Brian has maintained weekly contact with Lynsey at the group and has accessed other Dementia Connections groups and Age UK North Tyneside services.
Brian feels part of a community and has made lots of friends from Singalong Memories and no longer feels socially isolated. He looks forward to the group every week and always enjoys catching up with his new friends while he is there. He is a valued member of the group, who now socializes regularly with the friends he met there.
Music has been found to stimulate parts of the brain, and studies have demonstrated that music enhances the memory of those living with Alzheimer's and dementia. Research suggests that listening to or singing songs can provide emotional and behavioral benefits for people living with dementia.
Musical memories are often preserved in Alzheimer's disease because key brain areas linked to musical memory are relatively undamaged by the disease.
Brian said "I enjoyed Singalong Memories from the minute I walked in the door, I can't say that there is not any part of it that I do not enjoy, I like the group they are so friendly and welcoming".
Dementia Connections Coordinator Lynsey said "Brian is a real joy to have in our group, his smile is infectious".
5. Jan's Story
A Dementia Connections Admiral Nurse Case Study
Mam and Dad have lived together for almost 70 years, they married in 1952 and have been living in their current home since the 1960s. They are now 93 and 90 years old. Over such a timescale, many of the changes that happen to most of us with increasing age were acknowledged and adapted to over time and then very sadly they reached a tipping point when this wasn't working.
Despite everyone's best efforts we weren't managing as a family.
It's hard to pinpoint when the balance tipped, maybe a combination of increasing fear and frustration triggering noticeable changes in Dad's mood, his insights into his decreasing ability to manage some of the things he always could, and his expressions of distress and frustration.
There were corresponding but different changes for Mam, who needed help in her own right but being a very private person, was not able to allow anyone to come too close.
As a family we did what we could, Mam and Dad were adamant they would not allow any other form of 'outside' help into their lives, fearful of this being the first step to losing their independence and home.
Then one day Dad fell trying to get to the bathroom in a hurry and sustained fractures needing hospital care. On discharge, he was referred to the local Falls Clinic and we set about finding out the things that would help them at home. Accessing physical aids was relatively straightforward, and this came about through the excellent Falls Clinic service initially. They also recommended a Memory Clinic assessment for Dad.
A call to Adult Social Services to see what else could be done to assist them was disheartening. We were told that we were already doing everything needed and they couldn't see a role for a social care assessment at present. Looking back I realise that I was struggling, exhausted and not sure where to turn with the complex issues that were hard to describe succinctly. I was saddened by their response.
The actual fall was only a small part of the situation we sought support for and I felt I'd failed my parents in not being able to articulate their situation. Looking for another means to seek help, I remembered the Age UK North Tyneside service. I had come across local representatives at an art event the local branch had sponsored, and I had noticed the posters outside of their office had a phone number and a cheerful inviting message.
I'm so very glad to have made that call. The experience at Age UK North Tyneside was ultimately our way forward out of the gloom. The first call was picked up by a lady called Fran. Fran listened and provided a warm, welcoming, helpful, and reassuring space to talk. At the end of the call and based on our chat she promised to put us in contact with the Admiral Nurse team. Thanks to Fran for that reassuring initial response. It really made all the difference.
Kirsty, an Admiral Nurse, rang the next day, and continued on from Fran with an initial phone assessment, taking details of our GP and the recommendations from the Falls Clinic. She quickly arranged to meet our family at my parent's home.
First impressions are vital, especially given the fear my parents and many people in distress feel. Kirsty arrived promptly, was professional, respectful, and interested. She approached them so gently. They felt listened to and opened up. It wasn't an easy discussion, all kinds of emotions were expressed. She quietly noted how they were in themselves, how they were living, and how the family dynamics worked. She quickly and sensitively pulled together an assessment with recommendations, explaining her role and what the service could provide.
From then on Kirsty has walked with us all the way through, supporting, signposting and caring, making sure Dad has access to all the help he needs, and Mam, as his main carer has the support and information she needs.
Kirsty has helped me to acknowledge the reality of being a carer to them both, and provided us all with expert information, insights, and resources. She has liaised with the GP, Memory Clinic, Pharmacist and whoever else we have needed to work with. There are far too many examples of great practice to list here.
As a result, my parents are still enjoying living in their own home. With Kirsty's patient and subtle guidance we have adapted as a family in a way that keeps them where they want to be, both for now, and maybe for the longer term. We hope so. What we do know is we have support at each step along the way.
Personally, I cannot thank this observant, thoughtful, empathetic, kind, challenging, respectful expert and nurse enough. With a perfect balance of honesty, gentleness and humour, by listening, enquiry and guidance she has kept me steady enough to cope. Kirsty reminds me to make time and reserve energy for all the other things that make our family life strong and balanced.
The long term nature of these circumstances we find ourselves in as a family means there are times of safe harbour and times when the stormy seas threaten to wash us overboard. It's hard emotional and physical long term work, and truly a labour of love for everyone involved. Everyone puts in and the generations still all help each other, just as it should be.
Throughout there has been so much love. The support of the Admiral Nurse Service has helped us to make the most of our valuable time, and there are many more shared happy memories because of them than we might have expected
Funnily, when I first came across the Admiral Nurse Service I thought it was named so because an Admiral traditionally guides ships at sea. While I know the service has an Admiral as its founder, it still seems a fitting description because that's exactly what Kirsty has done and keeps doing for us. We may well have been 'lost at sea' without her and the service. As it is we are all in this boat together and doing pretty well in the circumstances. We know we have the service for the long haul and that's a valuable lifebelt.
We are deeply thankful we were lucky enough to have this service in our locality. I understand not everyone can benefit. I hope this can and will change.
So, finally, thank you and keep doing what you do,
Admmiral Nurse Kirsty's input
Jan is 63 years old a mother, grandmother and retired clinician and made a self-referral to the Admiral Nurse service to identify support for her parents as well as herself.
She had identified that carer stress was evident and she was unsure how to support her parents to gain the best outcome for everyone concerned.
Her father was undergoing memory assessment and unable to do things he was previously capable of. He was becoming frustrated and argumentative. Her mother was finding it difficult to understand the changes in her husband and how to respond to him. Both physically and emotionally the situation was affecting and impacting all of the family members.
An Admiral Nurse assessment was undertaken followed by regular contacts. I provided time for Jan and her parents to explain their thoughts, feelings and fears. Together we explored their current situation holistically, offering reassurance, advice, and support throughout.
I was able to identify areas of support that needed further involvement and signposting e.g. her Mum's mood and physical health.
I was able to address the family's concerns and questions whilst also instilling some hope and discussion regarding support available locally. Carried out liaison with other services.
The whole family gained a sense of relief to be aware that support was available and that there was a service to support carers and the wider family. As a result, they were able to consider the whole picture rather than focusing solely on one individual or element.
I still provide ongoing emotional support, education and guidance to the family as well as acting as a liaison to other support services like the GP, OT and physiotherapist.

Jan's Mum feels supported, listened too and cared for. She has benefited from advice and education and is able to take on board strategies to assist both herself and her husband. She has had her own physical and mental health needs explored via their GP and Frailty nurse which is ongoing.
Jan can see the benefits of the interventions for both parents and appreciates the emotional support, practical advice and guidance. The family are adjusting and are now able to cope with the challenges they face.
They are aware that they can seek support as and if it's required now and in the future.
If you'd like to learn more about Dementia Connections and Admiral Nurse services in North Tyneside Tel: 0191 287 7014 or email enquiries@ageuknorthtyneside.org.uk
Helpful downloads related to Dementia
You can view, download and or print for sharing from the links below: