Dementia Connections Case Studies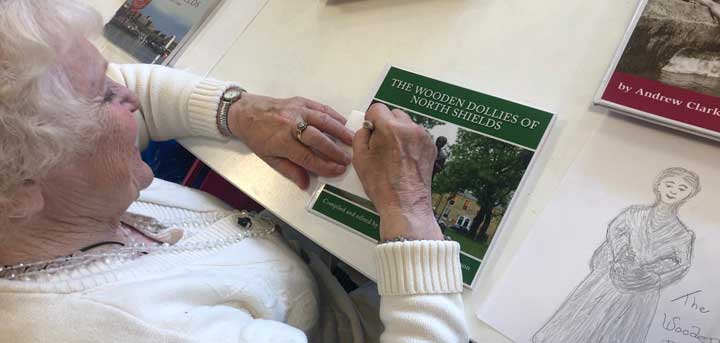 The aim of the Age UK North Tyneside Dementia Strategy is to embed and improve the understanding of the design, delivery and marketing of support for older people living with dementia and their carers through developing a suite of coherent dementia specific services.
Among these are groups and activities provided by the Dementia Coordinators:
Craft Group in North Shields
Memory cafes in Killingworth and Whitley Bay
Singing groups at Forest Hall and North Shields
Peer to peer support group in North Shields
Time Travellers at the Segedunum Museum, Wallsend
Maintaining Cognitive Stimulation Therapy (mCST) course in North Shields
1. Gillian's Mum and the Social Groups
Gillian from Wallsend is the main carer support for her Mum who lives alone and was diagnosed with Alzheimer's over three years ago. Not long before her diagnosis her husband had passed away leaving her literally staring at four walls during the day without stimulation or company. Our Dementia Connections team first visited with Gillian and her Mum in September 2016 when they shared useful and local information on services they could access including our own Wellbeing and Social Activity Centre, Cedar Grove in Wallsend.
Very soon after taking part in a free taster session at Cedar Grove Gillian and her Mum both decided that this was the perfect place for her to make new friends and participate in the interactive activities which take place on a daily basis there. In addition to this Gillian and her Mum tried several different Dementia Connections groups to see what met both of their needs. They now regularly participate in Singalong Memories and our Whitley Bay Memory Cafe delivered by the Dementia Connections team based here in North Shields.
This offers a stimulating and enjoyable activity for people living with dementia and their carers. It's an opportunity to meet others in a friendly and relaxed environment and refreshments are available. Our dementia specific activities include; memory cafes, craft groups, peer support and singing groups as well as 'time travellers' which take place at Segedunum Museum, Wallsend.
Gillian said "Without the groups Mam would be bored. The stimulation has really helped her memory and helped her to stay active. The singing perks her up for the day even if she can't remember she's been. The staff and volunteers are fabulous, Mam just loves the company. 11/10 for everybody".
Gemma Musson our Dementia Services Coordinator said "Gillian is the main carer for her Mam, and they come together to our singing group and memory café. Gillian's Mam is a very sociable lady who thrives with social interaction and stimulation. As such, the groups have been, and continue to be, of great benefit to her. They also provide an opportunity for Gillian to discuss any concerns and seek advice from our coordinators in an informal setting. Gillian herself is an asset to us in welcoming and supporting newer customers, and there is huge value to our customers in accessing this type of peer support"
2. Christine's Music Therapy
Dementia has detrimental effects on cognitive, psychological and behavioural functioning, as well as a significant impact on the carer. There is a need to find suitable psychosocial interventions to help manage the condition, enhance wellbeing, and to provide support for caregivers. Our Singalong Memories group was developed to do just that. Music as therapy refers to the impact of music upon the psychological aspect of an individual; it can be used to improve mood, regulate emotion and relieve stress. Music can arouse and provide pleasure.
Christine lives alone in Whitley Bay and was given a diagnosis of dementia in 2018. She was referred to the Dementia Connections team by the Memory Clinic on Hawkey's Lane in North Shields as she was looking to participate in local activities.
Her family live in Durham and she has friends living locally but wanted "something to do that I would enjoy and would be good for me".
Christine said "Everybody can just be themselves here and I just love coming. It's set up well. I've got to know people and it's good to have a laugh with people too. It's nice having a cup of tea and a chat afterwards. If I struggle with anything there's someone to help. It's nice that there's always someone to talk to and if I don't know the words to sing you can just jiggle along".

Christine is now a regular member of the Singalong Memories group, which take place at Forest Hall and North Shields and is run by the Dementia Connections team based here in North Shields.
Singalong Memories provides a stimulating and enjoyable activity for people living with dementia and their carers. It's an opportunity to meet others in a friendly and relaxed environment and refreshments are available.
Gemma Musson our Dementia Services Coordinator said "Christine is a fantastic member of our singing group, has developed friendships there and is hugely supportive of other members. She has overcome her initial nerves about travelling and attending alone, and with a little support to organise taxis at the start, now manages independently with confidence."
3. Harry and Joan and the Crafts Group
Crafting is often used as a source of art therapy for those living with dementia. It lessens a person's anxiety, reduces feelings of isolation and brings about a general feeling of happiness. If people living with dementia choose to paint or color as their craft, it can also bring them back to happy memories when they were children.
Crafting can also help battle depression. Studies have shown that a simple activity like painting or knitting can allow the brain to release dopamine which serves as a natural anti-depressant within the body. These feel-good non-medicinal chemicals are beneficial for people who may be dealing with depression. It can help build confidence and give people a sense of purpose. Being able to complete a project helps people feel like they can accomplish things. This is extremely beneficial for people who may feel like they can't do the same things they once did. Crafting can also foster a feeling of togetherness.
Harry and Joan live in Whitley Bay, having re-located from Scotland, after his wife was given a diagnosis of dementia. Harry is Joan's main carer.
The couple first accessed our Dementia Connections service based here in North Shields in April 2017, when they were looking for both advice, support and activities related to their shared interests, which were art and crafts. The couple were provided with a dedicated coordinator to help them to navigate the raft of services available to them locally.
Harry and Joan are now the longest members of the Dementia Connections Craft Group, where the activities include; card making, ceramic and jewellery making, decoupage, mosaic and much more. It provides a stimulating and enjoyable activity for people living with dementia and their carers. As well an opportunity to meet others in a friendly and relaxed environment, refreshments are available.
Harry and Joan now also access the Memory Café and Singalong Memories groups also run by the Dementia Connections team.
Harry said "Apart from the art side I enjoy the company. These people are so very lovely and I look forward to all the groups. It's a good break from home for us both." Joan said "It's nice that there's always somebody that'll chat to you".

Sarah-Jane Scott our Dementia Services Coordinator said "Harry and Joan are a very friendly couple who have not only grown in confidence themselves but have welcomed and encouraged new members into our groups. Joan regularly comments on the enjoyment she gets from participation in Craft group".
4. Brian and Music Therapy
Brian is 85 and lives alone in sheltered housing in the Forest Hall area he started coming to the Singalong Memories group approximately twelve months ago after moving to North Tyneside.
As he was new to the area, Brian felt socially isolated and he also wanted to get out and meet new people.
After hearing about Singalong Memories he wanted to get involved as he has always had a keen interest in music and has performed and sung all his life.
Brian was welcomed to the group and introduced to Lynsey, Dementia Service Coordinator from the Dementia Connections team who he chatted with and instantly became a part of the group. He made friends from the very first group he attended. Since then Brian has maintained weekly contact with Lynsey at the group and has accessed other Dementia Connections groups and Age UK North Tyneside services.
Brian feels part of a community and has made lots of friends from Singalong Memories and no longer feels socially isolated. He looks forward to the group every week and always enjoys catching up with his new friends while he is there. He is a valued member of the group, who now socializes regularly with the friends he met there.
Music has been found to stimulate parts of the brain, and studies have demonstrated that music enhances the memory of those living with Alzheimer's and dementia. Research suggests that listening to or singing songs can provide emotional and behavioral benefits for people living with dementia.
Musical memories are often preserved in Alzheimer's disease because key brain areas linked to musical memory are relatively undamaged by the disease.
Brian said "I enjoyed Singalong Memories from the minute I walked in the door, I can't say that there is not any part of it that I do not enjoy, I like the group they are so friendly and welcoming".
Dementia Connections Coordinator Lynsey said "Brian is a real joy to have in our group, his smile is infectious".