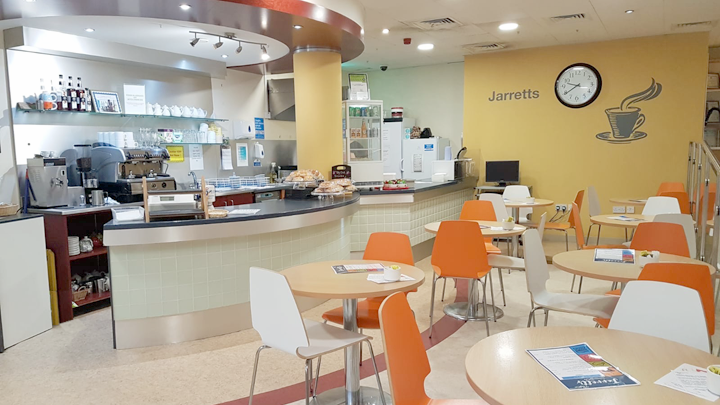 Jarretts is a wonderful place to meet with existing friends or to make new ones over delicious, homemade soups, snacks and lunch options.
The café provides lovely food and drink at great prices, there are always great offers on at Jarretts.
Opening Times and Menu:
Opening hours for Jarretts are Mondays to Thursdays from 9am to 3pm (with last food orders 2pm and last drink orders 2:30pm). The Café is closed on Fridays through to Sundays.
View/Download our menu Jarretts Menu (pdf)
Food glorious food
Jarretts isn't just about great coffee. All meals and snacks are freshly prepared with the best ingredients and, where possible, we use local suppliers. We serve a varied lunch menu and you can also treat yourself to a delicious dessert if you wish.
Relax, read or whatever you like.
Jarretts Coffee House is many different things to many different people, some friends meet here for a coffee and a snack before picking up their grandchildren from school, local societies meet regularly at Jarretts.

Jarretts Catering Service
Is part of the commercial arm of Age UK North Tyneside, catering for private parties and corporate functions.
Jarretts offers a gourmet coffee catering service complete with baristas serving cappucino, espresso and latte, including a selection of regular and herbal teas. A 'deli basket' will complement the range with an excellent menu of prepared sandwiches, salads, snacks and homemade pastries.
Jarretts Community Café is situated at:
Age UK North Tyneside's Bradbury Centre, 13 Saville Street West, North Shields NE29 6QP
Please call 0191 280 8484 to find out more or email us at: enquiries@ageuknorthtyneside.org.uk

Help, information and support
As you know, Age UK North Tyneside provide a range of information on a massive range of products and services for older people. Read about them over a cuppa. Everything you need is in our help-yourself information centre.
Awards
We are a bit showy too, of course – take a look at our awards cabinet, situated by the information board.
Information board
Jarretts Community Café is home to Age UK North Tyneside's busy and vibrant information board. You can find out about everything that's happening here at our website, but do take the time to browse the notices we post at Jarretts too.
Our fabulous volunteers
Our friendly team in Jarretts are almost entirely made up of volunteers who give their time for free. We are very proud of our team of volunteers who are always ready for a chat and of course to serve you whatever you fancy.
We look forward to seeing you soon!