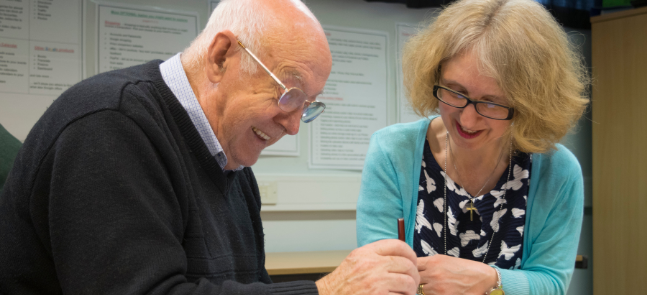 Do you need to make a will? Age UK North Tyneside can help, with the support of local solicitors.
How can Age UK North Tyneside help?
With the kind support of local solicitors, Age UK North Tyneside organises charitable Will Writing Events. These are one-to-one confidential meetings between you and the solicitor who has agreed to support our charity. By reducing their usual fee, charged to you and donating all of the proceeds back to us, this benefits both you and ourselves.
What do I have to do if I wish to go ahead?
With the agreement and availability of solicitors taking part, Will Writing Events are normally organised every three months, or whenever the waiting list reaches a specified number to make it viable to organise.

Will Writing Events are organised on a rolling programme, so you don't have to wait to have your details added to the list. Please be aware that if an event has recently taken place, there may be a slight wait.
Call us on 0191 280 8484 Option 1 or email enquiries@ageuknorthtyneside.org.uk to be added to the waiting list.
What happens next?
A member of Age UK North Tyneside team will contact you when the next event is about to take place to establish if you wish to proceed. Following this they will then suggest an appointment time and date and will send you confirmation in the post, along with details of what you need to bring with you.
Gift of legacy
Age UK North Tyneside is committed to being there for older people who need us. If you decide to leave a gift in your will to us, you will be supporting us to make life better for older people in North Tyneside.
Every single gift is vital to Age UK North Tyneside and we appreciate any gift you may choose to leave us after taking care of your family and friends. Whatever the value of your gift, it will go a long way to help someone who needs us.
Find our how you can leave a legacy.
Contact us to find out more
If you are interested in our Will Writing service and want more information, please feel free to contact us and we would be happy to talk to you further.