Coronavirus Crisis - The latest updates from Age UK Oxfordshire
Published on 12 March 2020 03:19 PM
Creative Challenge Pack now available
Simple ideas to try at home
Please donate - Help vulnerable older people in Oxfordshire during this crisis
Our team are working tirelessly in response to Covid-19, increasing telephone support as people face an unprecedented level of isolation and health challenges. Your critical donation will provide advice and assistance to the most vulnerable older people in our local community during these uncertain times.
£10 could enable us to reach out to 5 isolated and vulnerable older people with a friendly call.
£20 - could enable us to support someone with specialist information and advice if they are facing a complex challenge
Donate via our dedicated Just Giving page. Thank you for your support.
Staying safe at home
There have been some reports of scams in Oxfordshire to Thames Valley Police and Trading Standards, including a fake home
testing scam and theft of money after offers to help. While we do not want to breed distrust in those genuine offers of help, Thames Valley Police has advised that older people should:
• Try to only liaise with someone they are familiar with
• Try give small amounts of cash for essentials (do not hand over a bank card)
Don't stop taking your usual precautions – ask for ID, use a door chain if that is what you normally do, and if in doubt, trust your
instincts. Please look out for your neighbours and family members who may not have access to social media and therefore will not be receiving this information.
If any residents become aware of suspicious activity, they are advised to contact the police's non-emergency number 101. If they find themselves in immediate need of assistance in an emergency situation, they should call 999.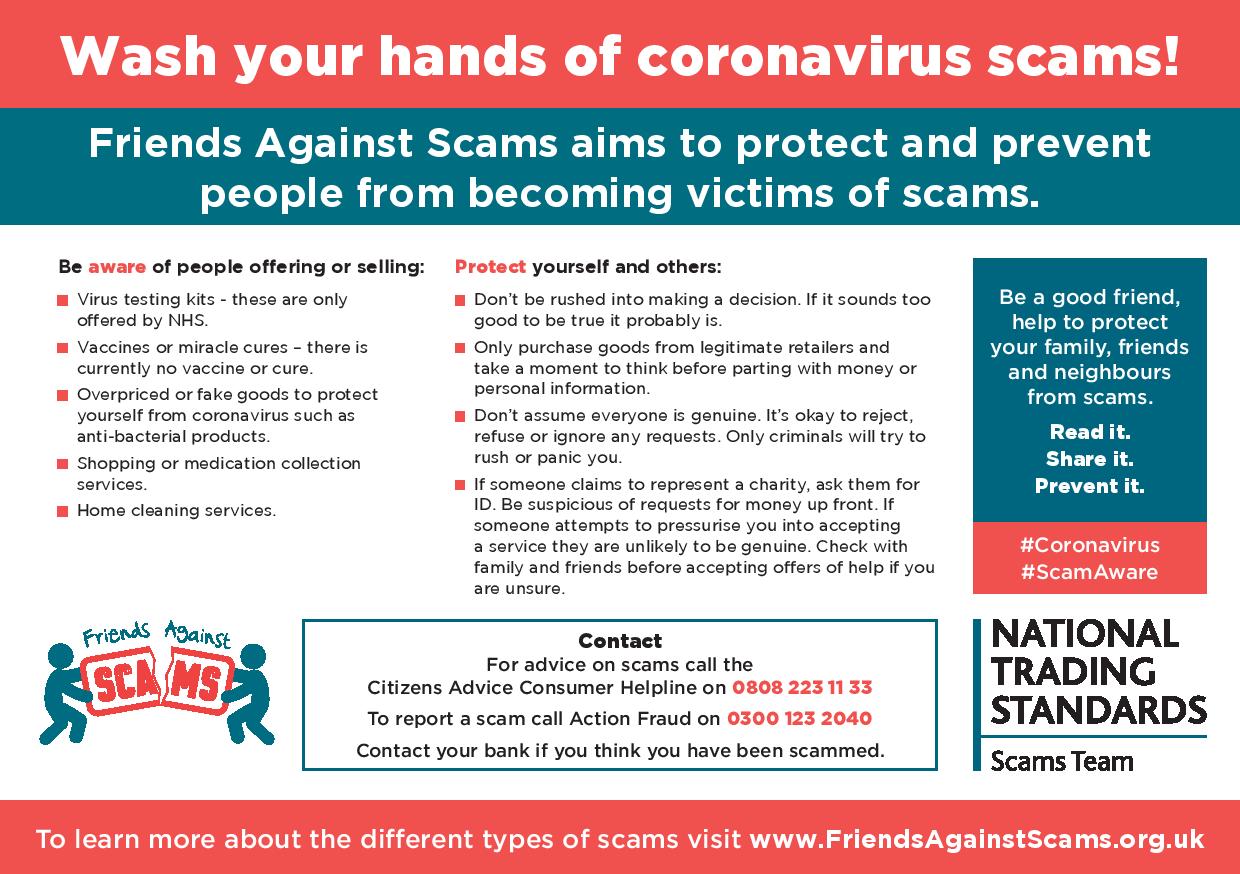 New telephone support service
From Monday 16th March we will be doing some things differently at Age UK Oxfordshire and Action for Carers to minimise the risk from coronavirus. We will be increasing the support we provide to older people and carers by telephone and limiting home visits to essential visits only. We will be pausing our events, activities and groups for the time being as a precautionary measure.
We are pleased to be offering a new, free, telephone support service. This will include a friendly, regular weekly call to see how people are, to chat and also problem-solve if people are facing practical problems.
If you think you would benefit from this service, please phone 01865 411 288 which will connect straight to an answerphone where you can leave your name and contact number. A member of our team will then ring you back as soon as they are able during normal working hours. Please note this is not an emergency service - please ring 111 for medical advice or 999 in a medical emergency.
There are simple, effective things we can all do to reduce our risk of catching coronavirus or transmitting the virus to other people. Please visit the
Age UK website
for more information.
Volunteering