As the world around us moves more and more online, we can help you make sense of it and build your confidence to use it as you choose.
Whether you need help with your phone, computer or tablet Age UK Oxfordshire and our team of volunteers can support you to develop your skills and be involved, safely, with the online world in which we all now live.
Whether it is staying connected to family/friends over skype, doing online shopping, learning how to use zoom to join a virtual group or class, setting up an email, or simply learning how to use your IT gadget…we are here for you.
We will listen to what your issue is and if we can't help you we will know someone who can.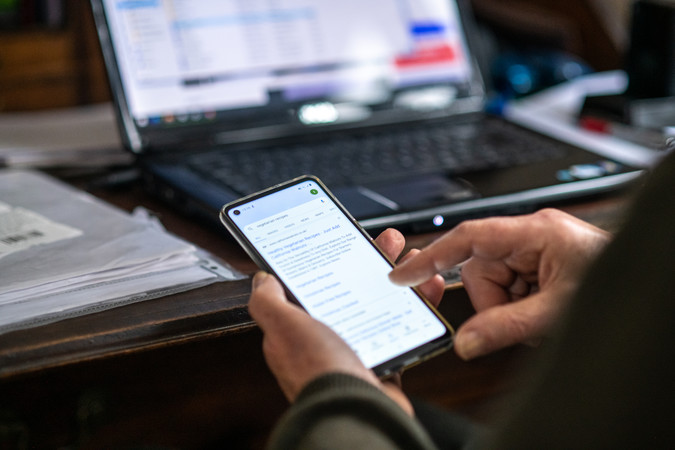 We offer basic FREE help via:
Telephone
Online
Handy 'how to' guides that can be posted out to you
Home / garden visits (Covid-19 safe)
Face to face IT classes and gadget drop-in sessions
Contact us on 07584 148 507 or email techbuddy@ageukoxfordshire.org.uk
We do NOT help with:
Specialised technical issues: we suggest that people contact their local computer repair shop who may charge them. WE can help them find the local computer shops near them.
Online Banking: we suggest that people contact their own bank, all of whom now have customer care staff who will be able to support with this
Making the most of the internet
The internet can seem complicated, but Age UK's step-by-step guides can help you make sense of it. From keeping in touch with friends and family to doing your shopping and banking, these tips will help you feel confident and stay safe online. This information is to help people who are already online but want to boost their confidence.
How Pat gained digital confidence


According to research by Post Office Broadband, who have joined forces with Google Digital Garage to put on Digital Drop-in sessions across the UK, 39% of over 65s don't feel confident using a smartphone. Pat was one of those people, but in our video explains how these sessions helped her gain digital confidence.
Pat is a busy woman, and very passionate about her involvement in a local choir and a tennis club. A few years ago, however, she realised her lack of digital confidence was holding her back from fully immersing herself in her hobbies.
"It made me feel inferior to most people who are able to use it," she tells us of her inexperience with technology. She therefore decided it was time to do something about it. "I thought, 'I have to do this: hold my nose and jump, otherwise I'm going to be left behind'."
So Pat went to a Digital Drop-in session in her local area, put on by Post Office Broadband and Google Digital Garage, to find out more about how to get the most out of her smartphone and apps. "[It was] absolutely A1!" she says of the help and advice she received. "I was so enthusiastic about the one-to-one help."
Watch the video above to find out more about Digital Drop-in sessions helped Pat, and her ambitious technological plans for the future!
Volunteer Opportunity
If you would like to join our team and become a Tech Buddy volunteer please click on this link for more information about the role.