Age UK Rotherham services during coronavirus pandemic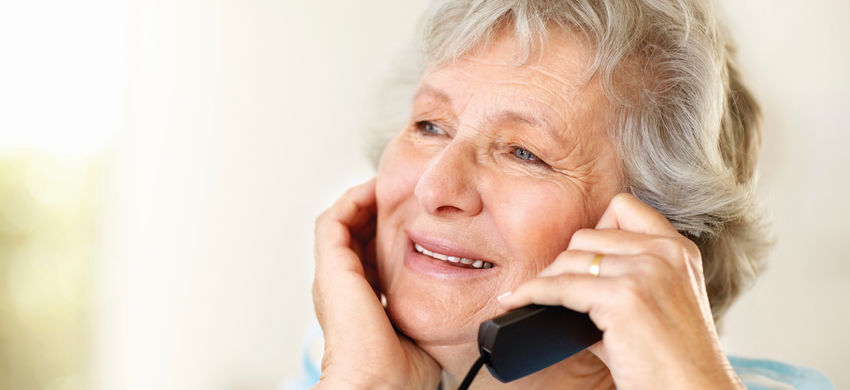 Published on 20 January 2021 02:44 PM
Reminder about Age UK Rotherham services during coronavirus pandemic
During the winter months of the Covid-19 pandemic we will continue to provide help and support to older people in Rotherham, their families and their carers.
In September 2020, we introduced two new services to help older people and their carers stay in touch with others. Older people who are isolated, who may have been shielding or perhaps might not be in touch with family or friends can receive a regular phone call to check they are OK or join others though a telephone based virtual activity club. Both services are available to all older people in the Rotherham borough.
The services join our well-established telephone advice and information service which also provides help with benefit applications, including Attendance Allowance.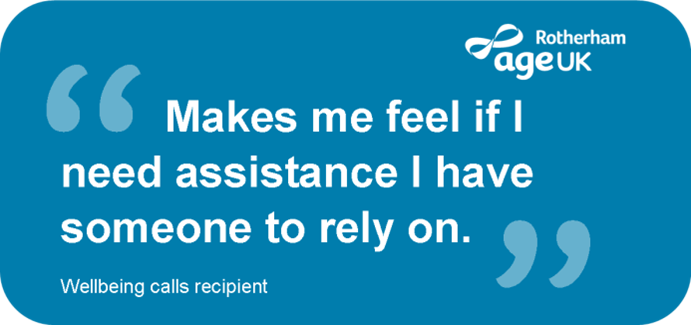 Age UK Rotherham's Chief Executive Officer, Lesley Dabell, said, 'We understand that many older people are struggling because of the pandemic especially now we have gone into another lockdown period. We want to make sure that older people and their families and carers to know that we are still here for them if they need some support.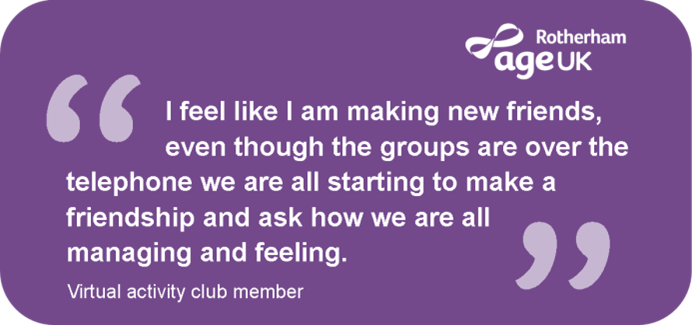 'We know from what people tell us that the new services are making a difference. Since introducing them people have said how beneficial they find them, how much they enjoy speaking to others and how they are beginning to make new friends. To some they are a lifeline.
'We are encouraging older people to make the most of them and get in touch if they need some support.'
For more information on receiving wellbeing calls or joining a virtual activity club call us on 07782 550 926.
Our free and confidential telephone information and advice service is available between 9.00am to 4.00pm Monday to Friday on 01709 835 214 (choose option 2).
We do not charge a fee to receive a wellbeing call or to take part in an activity club as these services have been funded through The Big Lottery. Dialling into a virtual activity club may incur call charges so please check with your phone service provider if you are unsure.
Read more about wellbeing calls and the virtual activity club here or view the leaflet here.