Improving Nutrition and Hydration in Greater Manchester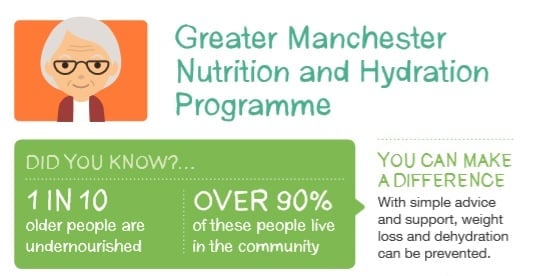 Eating and Drinking well during the Coronavirus Pandemic
It is more important than ever that we stay healthy and avoid hospital where possible, this means looking after our body and mind during the Coronavirus Pandemic.
Greater Manchester Nutrition and Hydration Programme Evaluation Report
The report sets out the findings of the evaluation into the impact of the Greater Manchester Nutrition and Hydration programme in identifying and preventing malnutrition in older adults

In most cases, malnutrition and dehydration are preventable. As we get older, we may find it more difficult to maintain a healthy weight, which can have a big impact on our wellbeing. Being aware of the signs to look out for, and thinking about what may be getting in the way of eating and drinking well will help you to stay healthy and independent.
Bill's Story
Bill's story shows the impact of losing weight and how small changes can make a big difference.