Professionals and Volunteers
We all have a role to play to reduce preventable malnutrition and dehydration.

10-14% of people aged 65+ are at risk of malnutrition. The majority (93%) of these people live in the community. However, this often is not recognised until a person becomes seriously unwell or loses their independence. In fact, the prevalence increases to 33% of people aged 65+ upon admission to hospital and 35% of people who are admitted to care homes.
The good news is that this is preventable in many cases, as long as people are aware that they need to gain weight and know how they can do this.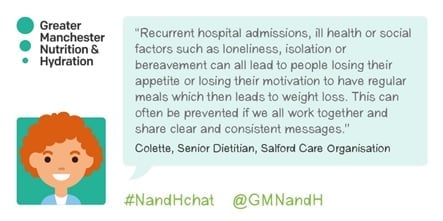 Research with the University of Manchester has shown that 86% of people who use the PaperWeight Armband have gained or stabilised their weight within 12 weeks by making small changes to their diet, such as switching to full-fat milk or snacking on peanut butter on crumpets.
As part of the Greater Manchester Population Health Plan, Age UK Salford has been commissioned to lead a programme to reduce preventable malnutrition and dehydration in 5 areas of Greater Manchester: Bolton, Bury, Oldham, Rochdale and Stockport. Each area is working with partners and community members to raise awareness of the importance of eating and drinking well as we age, and to normalise conversations about this.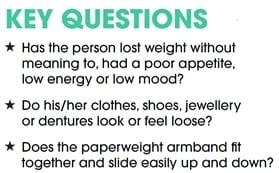 We are using the PaperWeight Armband, a simple, yet cleverly designed strip of paper, along with 3 key questions.

The questions will enable anyone to open up a conversation about eating and drinking well and to spot in an instant if someone needs to gain weight.
What can I do?
Talk to your friends, relatives, colleagues and older people you know about the importance of eating and drinking well as we get older. Many people wrongly dismiss weight loss as a natural part of ageing, the first thing to do is, to dispel that myth!


Why not download posters to stick in communal areas from our resources section or run an activity at a group or coffee morning to share ideas about eating well if you have a poor appetite or if you live alone?


Look out for signs that someone may not be eating or drinking enough and be ready to raise the issue with them


Use the PaperWeight Armband as a conversation starter and to highlight if someone may be underweight. If you regularly work with older people, consider how you could build this into your normal practice so that it becomes something that you try with everyone you meet.
Be prepared with simple tips to share with people who need to boost their appetite or gain weight


Check out our top tips below and read the Eat, Drink, Live well booklet for more details. Your local Age UK will have more details


Encourage people to eat with others where possible, this could be friends, family members, neighbours, a lunch club or a friendly local café