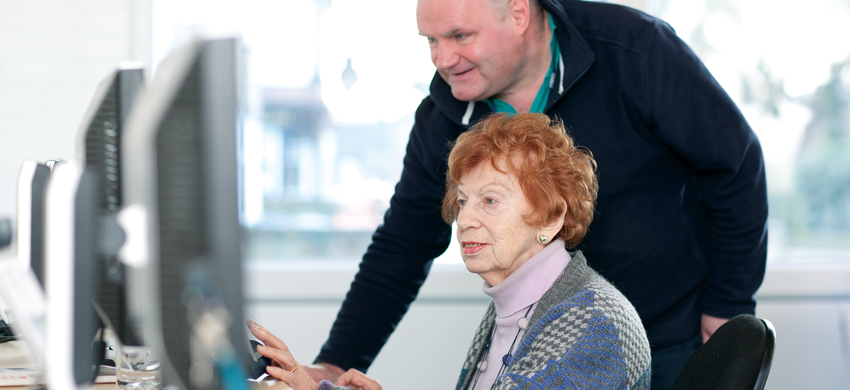 Age UK Southampton relies on volunteers to help us offer vital services in the local community. Would you like to lend a hand?
Download our latest Volunteer newsletter
Volunteering roles with Age UK Southampton
Could you visit or call a lonely older person? Help us fight loneliness in Southampton by becoming a befriender.

Could you help us to raise vital funds by taking part in a fundraising event? We have regular events such as sponsored walks, but you could also do your own fundraiser like a cake sale.

Could you help us to provide vital information and advice to older people in Southampton?
Volunteer Your Time
"I visited the charity to ask about clubs I could join as I was new to the area. To get to know more people I became a volunteer and have helped support the Information & Advice office for over 7 years and absolutely love it."
Age UK Southampton is focussing on being a volunteer led organisation. Our strength is our volunteers and we want to make your experience of volunteering a rewarding one. We simply couldn't manage to deliver all of our services without the contribution of our wonderful volunteers who dedicate their time and effort to make life better for older people in Southampton.
If you are interested in volunteering please get in touch. Our volunteers gain a real sense of achievement knowing that they are helping some older people to retain their independence and remain in their own homes and helping to reduce feelings of isolation, exclusion and loneliness in their communities.
All our roles are within these core times: Monday to Friday 9:00am to 5:00 pm with the exception of Fundraising roles which can include weekend and evening working. All volunteers are given appropriate training and have the support and guidance of managers and colleagues. There is insurance cover in place for our volunteers and reasonable out-of-pocket expenses can be claimed.
We are committed to the safety of our staff and service users, and are aware that many of the people we serve are potentially vulnerable. For some volunteering roles it may be necessary for an application to be made for disclosure of any information held on police records by the DBS (Disclosure and Barring Service).
Urgent Volunteering Opportunities
Activities Volunteers - Southampton Living Well (SLW) offers daytime activities and a place to go to for older people living in Southampton. SLW hubs offer bespoke activities, tailored to the interests and abilities of those attending on any given day and this is where you can make a BIG difference! As an Activities Volunteer who enjoys spending time with and supporting older people, you will help older people to achieve their goals from the activities. For more details about the Southampton Living Well programme click here.
Other Volunteering Opportunities
Trustee Treasurer

- Principle roles for the Treasurer are to guide and assist the Board to meet the organisation's financial obligations, and to guide and assist the senior staff to operate within a sound financial framework; this is a Trustee position within the charity. We are looking for an individual with formal financial/accounting qualifications and experience of managing organisation accounts and budgets. For more details of this key role, please email Volunteering@ageuksouthampton.org.uk
Fundraising – As an independent local charity, we need help to raise money to keep our services running. Activities range from helping us to run a collection at a local store or to run a stall at an event, helping us to sell raffle tickets or Christmas cards, arranging a charity coffee morning or activity with your friends, contacting businesses to arrange placement of collection tins and collecting /dropping collection tins at various locations throughout the city.
Information & Advice Volunteer - Assisting with delivery of the Information & Advice (I&A) service to improve the lives of older people across Southampton, providing Information & Advice face-to-face and over the phone, completing welfare benefits checks and helping with benefits claims.
Computer Skills Volunteer - Assist in the running of our Monday computer sessions at Challis Court , or our Friday sessions at Freemantle & Shirley Community Centre, giving one-to-one support to clients in basic computer skills.
Receptionist and Administration Volunteer – An important first point of contact for our clients and visitors, whether face to face or on the phone, and provides administrative support for our staff as required.
Trustee – Use your business skills and experience to help set the overall strategic direction and priorities for Age UK Southampton. Trustee Application Pack and Trustee Application Form
Visiting Volunteer – Many older people can be isolated and lonely especially if they don't have family or friends nearby. A regular visit from a friendly volunteer would give them something to look forward to.
Chums - We are keen to hear from volunteers who enjoy talking on the telephone and meeting new people to have regular telephone catch ups with other volunteers or organise a regular social activity or get together (e.g. coffee mornings, games and exercise). This will help us to support our volunteers to socialise and make new friends and help us to learn from and improve our volunteer experience.
How to apply to be a volunteer
We value all our volunteers and welcome enquiries from all sections of the community. Your help is vital to us and the older people of Southampton.
If you would like to apply to be a volunteer for Age UK Southampton please complete a volunteer application form or contact us for further information by telephone 023 8036 8636 or email volunteering@ageuksouthampton.org.uk
Why volunteer?
Volunteering is a great way to meet new people, learn new skills, and support the work we do in the community.
These are some of the reasons people choose to volunteer. For some it provides an opportunity to:
give something back to an organisation that has impacted on a person's life, either directly or indirectly
make a difference to the lives of others
help the environment
help others less fortunate or without a voice
feel valued and part of a team
spend quality time away from work or a busy lifestyle
gain confidence and self-esteem.
For some, volunteering can be a route to employment, or a chance to try something new which may lead to a career change. From this perspective, volunteering can be a way of:
gaining new skills, knowledge and experience
developing existing skills and knowledge
enhancing a CV
improving your employment prospects
gaining an accreditation
using one's professional skills and knowledge to benefit others (usually described as pro bono).
For others, volunteering appeals because of its social benefits. These include:
meeting new people and making new friends
a chance to socialise
getting to know the local community.
There is lots of anecdotal evidence that volunteering has a positive impact on health. Volunteering offers an opportuntity to keep your mind and body active, to do something meaningful that does good in your community, and to give your day a purpose.
Who can volunteer?
Almost anyone can be a volunteer. We have a wide range of roles which suit different people and different skills.
How much time do I need to give?
It depends on the volunteer role you are interested in. Some people give an hour a week, other people do more.