Age UK Outside Wellbeing Activities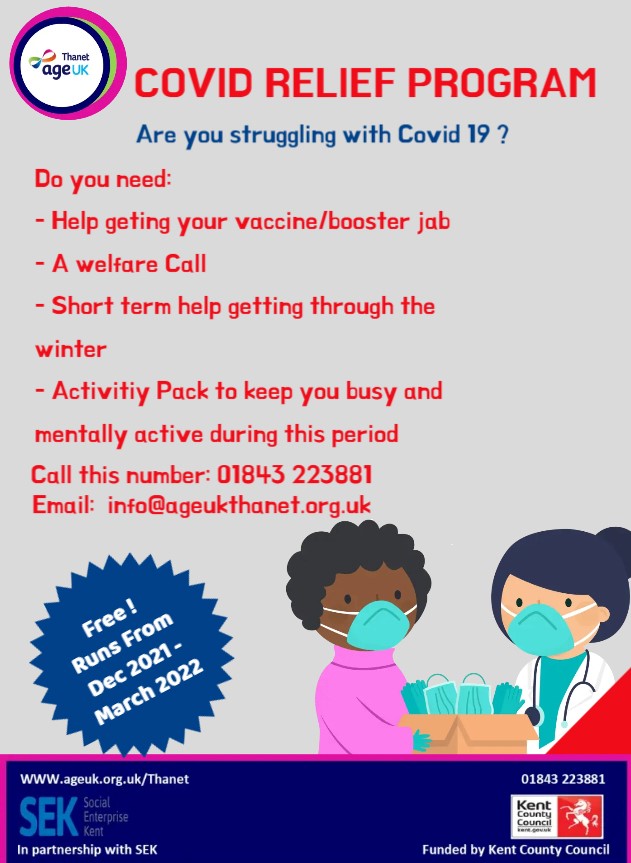 We are excited to now be working in partnership with SEK to deliver a range of free activities at our Community Hub and at venues accross Thanet and we'd like you to have a go! The Wellbeing scheme is funded by Kent County Council.
Ballet
FREE Ballet Taster sessions hosted by Masque Theatre school in Ramsgate. No previous experience necessary. Ballet slippers are welcome if you have them but can be performed in socks or barefoot. Please note access to te dance studio includes a flight of stairs, so good mobility will be required. Every Friday 9:45am till 11am.
RAF Manston Coffee Catch up
Come enjoy a chat with a hot beverage and slice of cake for £2 every Monday 11:30am -1pm. If you fancy a trip round the museum they will give you a discounted price at just £3.
Coffee Mornings at Cliffsend
Every Tuesday 10.30am-12pm. Come along and meet up with the locals and enjoy a tea and cake for a small donation. Bi weekly you also get the opportunity to source locally produced fruit and vegetables The Village Hall, 55 Foads Lane, CT12 5JH
Strawberry fields
Come join the team for a cream tea for just £5. Enjoy a chat in this tea room in Birchington every Wednesday 1pm till 2:30pm.
Small Boats Assocation
Coffee morning at this lovely venue takes place Monday's 10am till 11:30am. You will find this place next to Ramsgate library.
Ellington Park Cafe
Come join us in Ramsgate park on a Tuesday at 1pm till 2pm for a cuppa and a chat. This friendly group is growing and very welcoming to anyone new.
Coffee & Chat
Here at Westgate town council office Fridays from 10:30am till 12pm.
Mecca Bingo, Westwood Cross
Join us every Tuesday & Thursday from 9.45am - 11:30am. Meeting at Mecca Bingo, Unit 46 Margate Rd, Westwood Cross Shopping Centre CT10 2BF.12 FREE sessions of bingo plus a FREE hot beverage and a chance to win REAL MONEY.
Pub Quiz at the Racing Greyhound
Join us every Thursday from 10am-11:30am at the Racing Greyhound pub in Ramsgate for a morning quiz followed by the option of staying for lunch. A variety of questions to get your brain ticking and an opportunity to meet like minded people, a friendly quiz where participants can test their knowledge. You do not need to come in a team as there is plenty of other participants to sit with. Great way to meet new people and interact with like minded people.
Lunch Club @ Taddys Barn
Come along and join us Every Thursday between 12:30pm-2pm for a Lunch time also a great opportunity to meet like mind at Taddy's barn, East Northdown garden nursery, George Hill Rd, CT103BN
Garden Centre Brunch Club
This activity is for anyone who fancies a spot of brunch and then a look round the Ramsgate Garden centre. Join us Every Friday 10am -11:30am at Ramsgate Garden Centre Montefiore, Ave, Ramsgate CT11 8BW
Legs, Bums Tums
An aerobic class focusing on general aerobic fitness but including all over strength exercises; the second half of the class focuses on floor/mat work which would be more suited to those who can move to and from the floor easily. However, a chair can be utilised for some of the floor exercises included within the programme. The class concludes with floor relaxation and yoga stretch. A YOGA MAT IS RECOMMENDED and a BLANKET FOR RELAXATION optional.Every Monday 1:30pm - 2:30pm at Kearn's Hall Minnis Bay. £3 per class
You can download the general time table running from 4th of January to 11th of March 2022 here.
*Please note all sessions must be booked in advance. More new sessions will also be coming soon! Please bring your mask.
To register your interest, please call us on 01843 223881 or email: info@ageukthanet.org.uk