Covid's Still Here!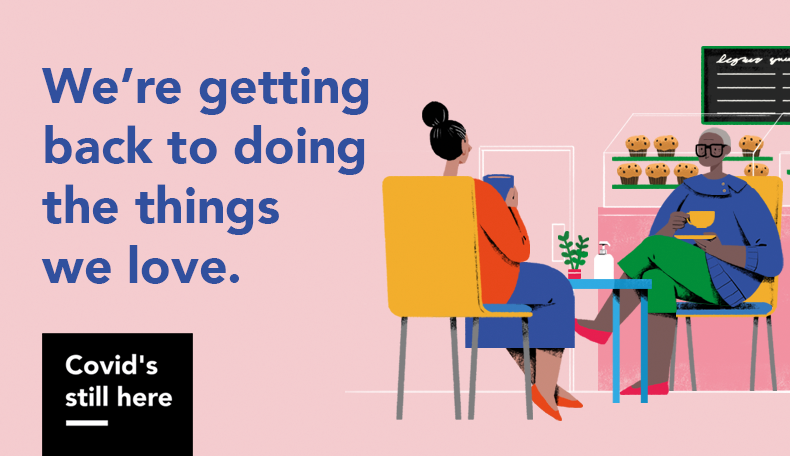 Published on 30 November 2021 05:10 PM
We're all getting back to doing the things we love.
So, it's important to keep taking the right steps to stay safe and reduce the risk of Covid-19. That's why, with funding from The Greater Manchester Combined Authority (GMCA) and The Greater Manchester Centre for Voluntary Organisations (GMCVO), we're partnering with the eight other Age UKs in Greater Manchester to ensure local older people know the steps they can take to live safely with the continued risk of Covid-19.
We all want to do our best to protect each other. And there are plenty of things you can do to feel safe.
Wear a face covering, unless you are exempt, when you are shopping, using public transport or out in public places to help protect yourself as well as others. It is a good idea to try and avoid busier places too.
Wash your hands regularly, especially when you get home, before handling or eating food and after sneezing or blowing your nose.
Keep windows open at home when you have visitors to help let fresh air in and blow Covid out. Even if they are only slightly open, it can help - but be sure to wrap up warm if you need to.
If you are feeling unwell, the best thing to do is stay at home and arrange for a PCR test to make sure you don't pass the virus on. Click here to find out how.
Follow the current testing advice to help protect you and others. Click here to read the latest advice.
Keep up with any boosters or jabs that you are offered via the NHS or your GP, including your flu jab. Taking steps to protect yourself from Covid will also help keep you safe from flu this winter.
By continuing to take these positive actions, we can continue to go out more again and keep each other safe. But if you need a little more help taking these steps or are worried about how Covid is affecting you, we are here to help. Contact us here.
Want more information?
We'll be visiting community groups and sharing leaflets together with our partners across Greater Manchester. If you are part of a community group and would like some more information, please contact us.