Age UK Wolverhampton offers a free confidential information and advice service for people aged 50 and over, their families and carers.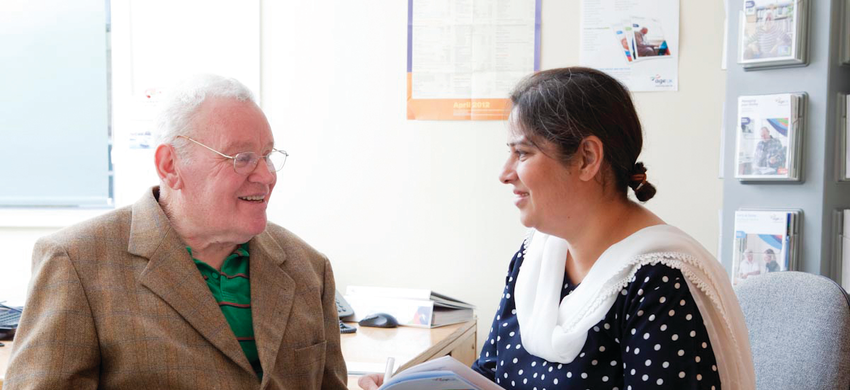 About the Information & Advice service
Our team of dedicated staff and volunteers provide free, confidential and independant information and advice on a wide range of subjects including:
Welfare Benefits
Consumer problems and rights
Housing options
Health
Care at home
Residential Care
Family and personal matters
Accessing local services
Help with switching utilities (Gas & Electric)
We can help complete forms (e.g. Blue Badge, Housing/Council Tax Benefit etc.), make telephone calls and write letters if needed.
If we are unable to help you, we will put you in touch with someone who can.
Accessing the service
Information Support - available from our Reception - Monday to Thursday, 9.30am to 3.30pm
Drop-in Advice Sessions - available at our office - Monday to Thursday, 10am to 1pm
Appointments - Disability forms (Attendance Allowance/Personal Independence Payment) are completed by appointment only.
If you have any queries about the service or need to book a form filling appointment please contact us on 01902 572060
How we have helped
How we helped in 2017-18

During 2017/18 our advice service was accessed by 1,152 people 2,602 times.

Assistance was often sought on multiple issues and we advised on 3,817 matters. Of these 60% related to welfare benefits. During the year we successfully achieved £629,000 of extra welfare benefits income for older people in Wolverhampton.

We received over 9,000 enquiries, from people calling in to our office in Darlington Street, emailing us or calling on the phone. We were able to give general information and also signpost people to services and other support available throughout.

Case Studies

Read some case studies of people who have been helped by our service.
Free information guides, factsheets and useful contact details
Age UK produces free information guides and factsheets on a wide range of topics, including home adaptations, dementia, and advice for carers. You can find a complete list of guides and factsheets on the Age UK national website.

We have put together a list of useful organisations and their contact details.
Word of Mouth
Download a copy of our useful Word of Mouth booklet, which is a list of contractors and service providers compiled by Age UK Wolverhampton and Wolverhampton Trading Standards from unsolicited recommendations provided by previously satisfied customers.
Age UK Wolverhampton has been awarded the AQS Quality Mark and the Age UK Advice Quality Standard which provides you with assurance that we have met certain criteria that demonstrate a commitment to quality. For more information visit: www.advicequalitystandard.org.uk