The 'At Home with Age UK' service has been designed to help people across Bath and North East Somerset with the little things that make a big difference, and who need help doing the tasks they are no longer able to.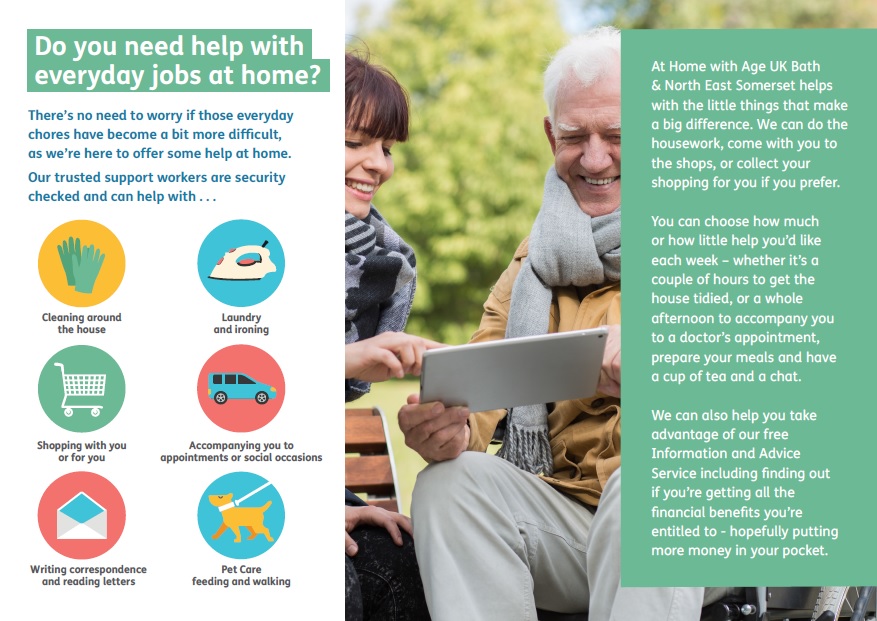 We can offer assistance according to what is needed by the individual. This could be help with housework, accompaniment to appointments or social occasions, or support with going to the shops.
We can also help people take advantage of our free Information & Advice service, and find out if they are getting all the financial benefits they are entitled to.
The service is available Monday to Friday 8-6pm, and how much time and help you receive each week is up to your individual needs, though the minimum time is 1 hour. We offer a free initial visit to find out what kind of help is needed, but subsequently charge an hourly rate to cover the cost of providing a reliable and good-quality service.
We are not able to offer personal care such as dressing, going to the toilet or taking medication.
Please call us on 01225 462641 or email carol.smith@ageukbanes.co.uk to find out more.