Annual Report 2019/20
Published on 15 December 2020 02:24 PM
The 2019/20 Annual Report has now arrived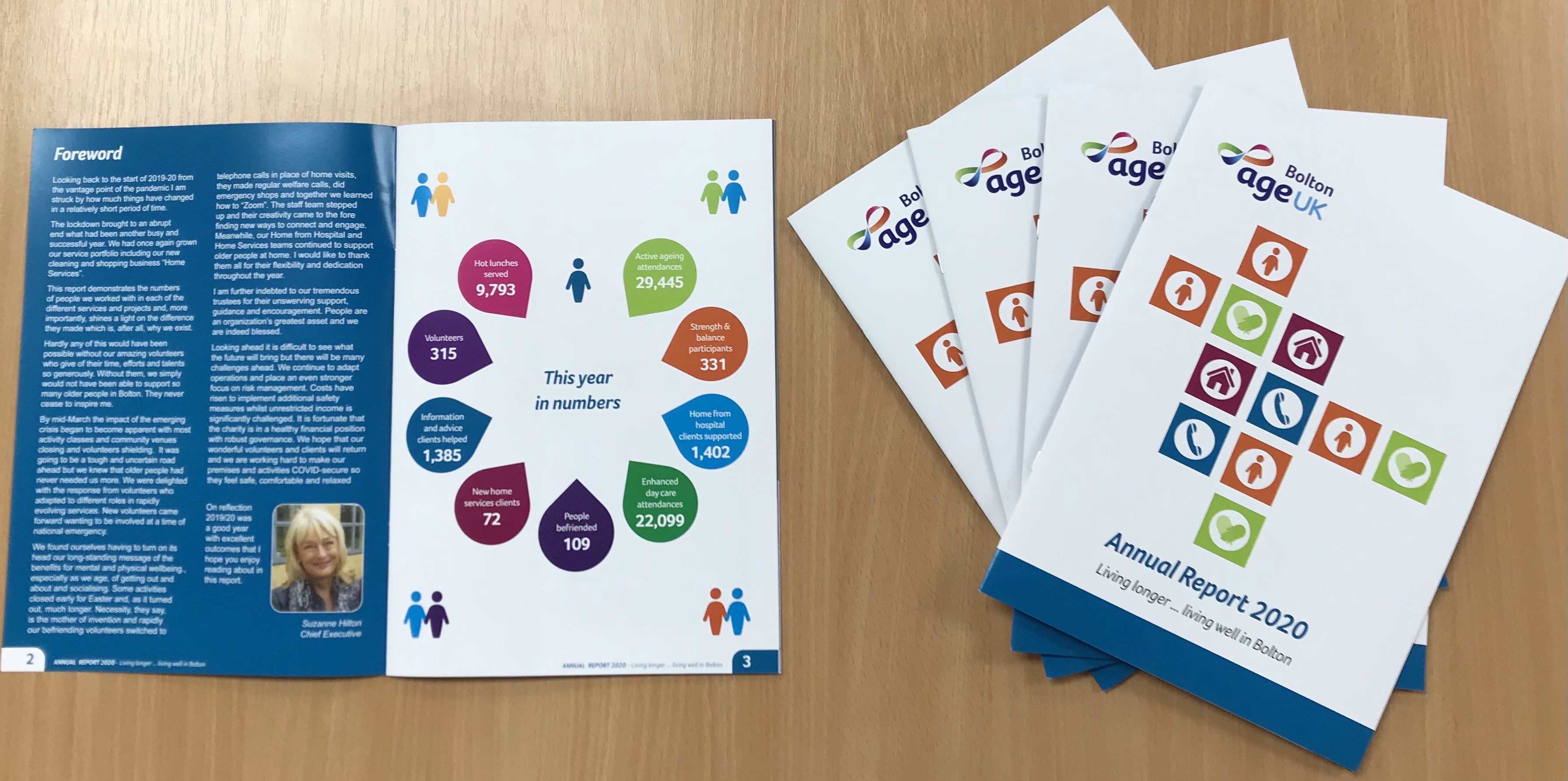 While 2020 has been a difficult year for everybody, especially some of the older people within our community. At Age UK Bolton, our work between April 2019 and March 2020 put us at a fantastic vantage point to meet the challenges of the Coronavirus pandemic.
In the Annual Report 2019/20 you can find out about how we grew our existing services: serving 9,793 hot lunches, supporting 1,402 clients through our Home from hospital service, seeing 331 participants of our Strength and Balance classes and helping 1,385 clients through our Information and Advice Service, a testament to our amazing staff and the volunteers who clocked up a total of almost 50,000 hours of voluntary work.
On top of all of this this help we also launched our new cleaning and shopping business Home Services. This new service delivered above and beyond our own expectations, delivering 1,941 service hours across 72 clients, a huge 243% above the delivery hours we expected at launch.
These new services, alongside our existing programmes are pushing to help keep more people living independently in their own homes. Our desire to provide appropriate, safe, reliable, trusted comprehensive and seamless support burns bright and will guide the Charity forward through the difficulties of the current Pandemic keeping our essential support going.
Whether it's Befriending, Benefits assistance, Will making, keeping active or staying social, find out about the services helping well over 7,000 local clients, and what opportunities we may have for you in the Annual Report 2019/20.
Despite the difficulties and the drawbacks that were to come our way as we moved into the 2020/21 business year, 2019/20 was, in the words of our Chief Executive Suzanne Hilton, "A good year, with excellent outcomes".