Farnworth Learning & Activities Centre
We run a number of courses and activities at our Learning & Activities Centre
If you thought life stopped at 50, then think again. A whole new world of opportunity and learning is waiting to be discovered. Just take a look at what's on offer at our Learning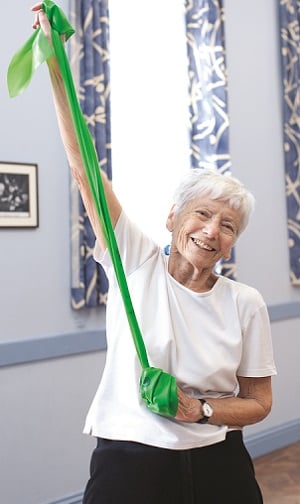 and Activities Centre.
Conveniently located at the heart of Farnworth, the Centre, which has its own parking area, is only a few minutes' walk from the town's main bus station and shopping area. This modern, comfortable and purpose-built facility, on two-levels, has been designed in partnership with older people, and offers full access, throughout, for people with disabilities.
It's the result of a funding partnership between Age UK Bolton, the National Lottery, Bolton Council and the Lloyds TSB Foundation.
Hundreds of older people use the Centre each week and all are assured of a warm and friendly welcome. Moveable screens in the main part of the Centre, allow this versatile area to be opened out to accommodate:
a movement to music group
our popular afternoon tea dance
and dancing lessons!
If you have bad memories of schooldays learning - relax! Here you can learn purely for your own pleasure and at your own pace.
Miss out on the computer age? Don't worry, here's your chance to catch up, under the guidance of highly skilled, patient and supportive tutors.
There are courses to suit all levels and all tastes, including:
Computers for ABSOLUTE beginners
Internet for beginners
And much more!
If computers aren't your thing, there's lots more courses to choose from:
Painting and drawing
Modern languages
An attractive choice of crafts
Music keyboard classes
Tai Chi
Yoga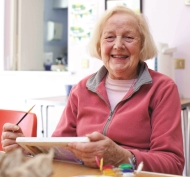 The choice is endless and charges for these courses and activities are set at a very affordable level. If, after all that, you feel you've earned a rest, then there's the opportunity to relax and enjoy a cuppa, courtesy of the snack bar team.
Courses and activities are planned and led by a team of skilled and experienced volunteer tutors who will do all that they can to help you learn something new, and, at the same time, enjoy it!
"My friend and I are so glad we joined your computer class. The tutors are so friendly and helpful"
"We've made so many new friends and have so much fun learning something new and useful"
Courses and activities in other venues
We also offer an attractive choice of courses and activities in other venues throughout Bolton. Which you can see here:
Rooms for Hire
Are you looking for a meeting room to hire? We have 2 small meeting rooms on the ground floor as well as our Training Suite with IT facilities on the first floor. We also have the main hall on the ground floor with onsite catering facilities, tables and chairs. This room also divides into two by a partition.
Please ring our Centre Manager for further details on 01204 701525 or email communityservices@ageukbolton.org.uk
Share your passion
We're always looking to develop new courses/activities. If you have a hobby or pastime, a creative skill or knowledge that you feel might be of interest to others and that you're willing to share, we'd be delighted to hear from you.
To find out more about our complete programme of courses and activities, or to discuss your ideas, please contact our Centre Manager on 01204 701525 or email communityservices@ageukbolton.org.uk