The main aim of the befriending service is to give you and your befriending volunteer the opportunity to spend quality time together, doing things you enjoy.
This might involve going for a short walk, visiting a local coffee shop, having a look around the shops or simply relaxing and chatting at home. You decide how you want to spend this time. Please be aware that the befriending service is primarily about social contact and friendship and, as such, our volunteers are not allowed to take part in: cleaning or any other housework, practical jobs e.g. gardening, personal care, helping with medication, shopping, collecting pensions, paying bills or preparing meals.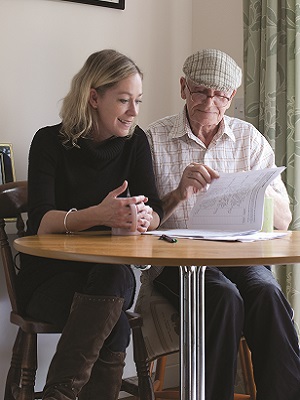 We are happy to receive enquiries and referrals from older people themselves or from their families/carers, GPs, Practice Nurses and Social Workers. However, we will only accept referrals with the consent of the person being referred.
Befriending service North and West Bolton
Areas include: Harwood, Bradshaw, Bromley Cross, Egerton, Sharples, Astley Bridge, Heaton, Lostock and Ladybridge areas of Bolton
Befriending service South and East Bolton
Areas include: Farnworth, Kearsley, Great Lever, Rumworth, Hulton, Breightmet, Tonge, Haulgh, Darcy Lever and Little Lever areas of Bolton
How the service works
Once you have expressed an interest in the service, the co-ordinator will contact you to arrange to visit you at home to tell you more about it. This gives you the chance to ask any questions you may have. Please be assured that everything you tell us will be treated as confidential. If you decide to go ahead, the co-ordinator will 'match' you with a volunteer. Every effort will be made to take into account your preferences regarding the age, gender and interests of your befriending volunteer. Please be aware that there can be some delay at this stage, as we do our best to find the right volunteer to meet your needs and circumstances. The co-ordinator will then contact you when a suitable volunteer has been found, and will arrange a home visit to introduce them to you.
The co-ordinator will be with the volunteer on this occasion. If you feel happy with the person they have introduced you to, they will then arrange a convenient time and day to start visiting you. After this, the co-ordinator will keep in regular contact with you and the volunteer to check how things are going, and one of our trusted volunteers will be in contact to visit you every few months to make sure that you are satisfied with the service. If you have any concerns at any point, please contact the co-ordinator. We want you to be completely satisfied with the service and we will do everything that we can to safeguard your safety and well-being. With this in mind, our volunteers are fully referenced and have to undergo an Enhanced DBS (police) check before being accepted. You have a right to expect your befriending volunteer to be polite, discreet, respectful, friendly, reliable and punctual. Please note that volunteers are NOT permitted to accept or solicit gifts or any kind (including money) or handle your money or finances.
Confidentiality
We believe that you and your carers have an absolute right to confidentiality in all contact with us. Any information that you, or someone acting on your behalf, choose to share with us will be considered confidential, unless there is a risk of harm to a vulnerable adult or child.
Health and Safety
Under Health and Safety laws, we are responsible for the safety of our staff and volunteers when they are engaged in the Charity's work. You can help by making sure that, when they visit you, they are able to access your home safely and you don't ask them to do anything which puts you or them at risk. If you are a smoker, we kindly ask you not to smoke during the time you spend with your befriender or co-ordinator, and for at least an hour before the visit. Please accept our thanks and appreciation for your co-operation.