Walking Champions
Walking Champions Is a new set of walks we are launching post Covid to help older people stay active and enjoy the outdoors. This has launched with a casual walk around smithills each monday. Each walk is risk assesed by Age UK Bolton. For more information call 01204 382411.
Our well established '50+ Walking Club' is co-ordinated by group members themselves with only limited support from the charity
Monday and Tuesday Walks
An attractive and varied programme of walks takes place each week on alternate Mondays and Tuesdays. All walks are carried out at a reasonable pace, we do not race and we avoid hills whenever possible. Our Monday walks are generally about 3 to 4 miles, and our Tuesday walks are generally about 5 to 6 miles.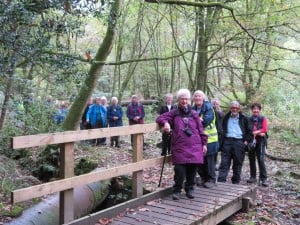 Our walks are usually based around the Greater Manchester area and walk details are circulated to members on a two-monthly basis. We meet each week for walks at either Bolton Bus Station or the Train Station and travel by public transport. Occasionally we venture a little further, and during the summer months we usually include a few coach trips at a very reasonable cost.
Our weekly walks are free; however, there is an annual membership fee (currently just £5.00 per year, payable each April) to cover the cost of insurance etc. and, to ensure suitability, anybody who is interested in joining our group is entitled to complete two trial walks before deciding whether to become a registered member.
If you are interested in joining our walking group, or if you require further information, please contact Age UK Bolton on 01204 382411 or e-mail enquiries@ageukbolton.org.uk giving your Name, Address and Telephone Number and a member of the group will contact you.