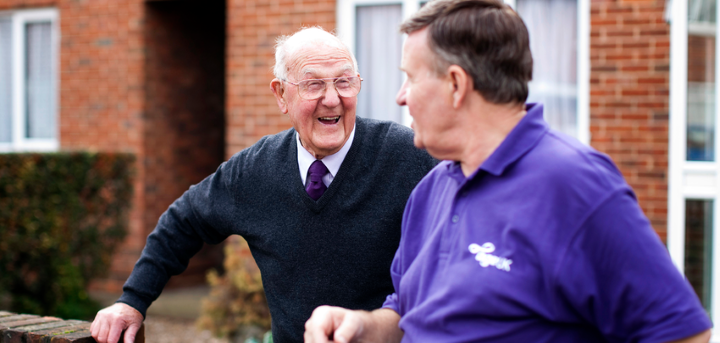 Enquire for further details.
Please note, this service is not available outside Age Cymru Gwent's catchment area.
Age Cymru Gwent
12 Baneswell Road
Newport
NP20 4BP
United Kingdom
Working together to help you when it matters most.

We appreciate that time is our most precious commodity and families value time together more than ever. Whether you are still working and find completing chores time consuming or you find it challenging to undertake certain tasks at home, we can step in to help.

Our Help-at-Home Service provides a range of competitively priced home support services to those aged 50+ living within Blaenau Gwent, Caerphilly and Newport.


Operating times
The Help-at-Home Service operates Monday to Friday, is charged at a competitive rate and is in addition to any help that social services or other agencies may already be providing. If you feel that funding may be an issue, our free and impartial Information & Advice service can help you to find out whether you are entitled to benefits which could increase your income such as Attendance Allowance. You can contact the Age Cymru Advice Line on 0300 303 4498, Monday to Friday, 9am till 4pm to speak to an Advisor.
A person may be referred to the service by hospital staff, social services, family members, a friend or carer or you may of course choose to contact us personally.
Referrals
To make a referral or if you would like an informal chat about any of our services please contact our team, Monday-Friday between 9am and 3.30pm on:
Home Support
- Domestic chores
- Laundry and ironing
- Bed making and changing bedding
- Grocery and general shopping
- and more

Click this link for more information on our Home Support service:https://www.ageuk.org.uk/cymru/gwent/our-services/home-support-95069866-0c17-ed11-b5cf-0003ff552688/
Handyman Service
- Put up shelves and pictures
- Assemble furniture
- Move furniture around the home
- Install home security locks, chains and spy holes
- Fit curtain rails, doors and grab rails
- Undertake decorating
- and more

Click this link for more information on our Handyman Service: https://www.ageuk.org.uk/cymru/gwent/our-services/handyman-service-933f79cd-0917-ed11-b5cf-0003ff552688/
Toe Nail Cutting Service
We provide a basic toenail cutting service in partnership with Aneurin Bevan Health Board Podiatry Service which is safe and accessible to help keep feet in good condition.

Click this link for more information on our Toe Nail Cutting Service: https://www.ageuk.org.uk/cymru/gwent/our-services/toe-nail-cutting-service-f4cf76b1-2917-ed11-b5cf-0003ff552688/
Wellbeing Service
Click this link for more information on our Wellbeing Service: https://www.ageuk.org.uk/cymru/gwent/our-services/wellbeing-service-1e140682-2e17-ed11-b5cf-0003ff552688/
Home Energy Check
Stay ahead of the chill this winter
Keep warm by making sure your home is energy efficient.
If you find it difficult to keep your home warm in winter, contact us for a free home energy check.
One of our experienced handymen can visit you in the comfort of your own home to fit practical equipment and provide useful tips on saving energy.
Call 01495 360 159 to make an appointment