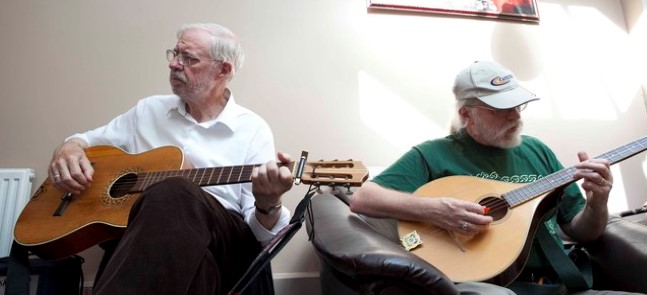 We are constantly looking for people who are able to fundraise for us so that we can continue helping older people love later life. Fundraising doesn't mean just jumping out of a plane or doing a bucket collection, as there are so many different ways you can get involved.
Thanks to Avis
19/12/18 Massive thank you to Simon Crone and his team at Avis Budget Group who have collected and donated:
- 98 bags/boxes of clothing
- 12 bags/boxes of books
- 3 bags/boxes of DVD's games
- 1 bag of vinyl records
- And an incredible amount of toys
Thank you so much for your support
Current partners
There are several groups, organisations and companies who are incredibly generous towards and supportive of Age UK Derby and Derbyshire. In recognition of their support, they are listed here as a way of saying thank you.
Strand Wools/Hook and Eye
John Sallis of Hook and Eye and Strand Wools sponsors our Big Derby Knitathon and has also been was instrumental in raising money through our Bobble day appeal
Dalesmen Male Voice Choir
Age UK Derby and Derbyshire over the recent months have been very privileged indeed to have the support of the wonderful Dalesmen Male Voice Choir, who not only put a concert on for us with the Syd Lawrence Orchestra at the Assembly rooms Derby but also put a concert on for us in Christchurch, Belper accompanied by the Drybrook Ladies Choral choir from the Forest of Dean.
Fundraising Committees
The Derbyshire and Erewash Fundraising Committees raise money for us through various fundriasing events. Thank you to each member of these committees for their support. If you would like to be involved, please contact Angela Barnes (see below).
Contact us
If you would like to get involved in fundraising or have some ideas you would like to share, please contact Angela Barnes on 01332 343232 or email: angela.barnes@ageukdd.org.uk
Raffle winners
Here is a list of the winners from our Summer raffle 2019 which were drawn on 27th July 2019.
Here is a list of the winners from our Christmas raffle 2018 which were drawn on 13th December 2018.
What else you can do to support us
Take part in a fundraiser

Could you help us to raise vital funds by taking part in a fundraising event? You can join an organised event or set up your own event, and then create your own fundriasing page online

Get your colleagues involved

Could you talk to your colleagues or your employer about how you can support us? We have lots of ideas for how organisations can get involved, including sponsoring an event, making us Charity of the Year, or donating equipment.
Amazon will donate 0.5% of the net purchase price (excluding VAT, returns and shipping fees) of your eligible AmazonSmile purchases. All Amazon products are available, just visit via https://smile.amazon.co.uk/ch/1068550-0 instead.