Our day services offer the highest quality care and support to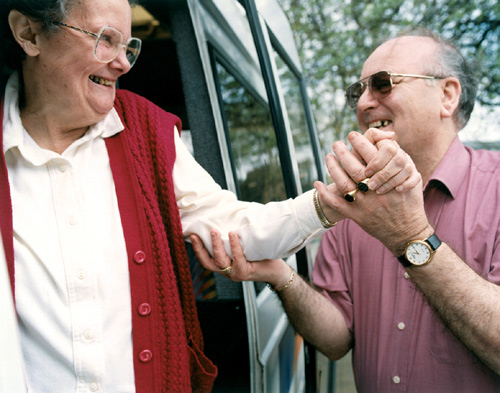 older people in a variety of settings in rural areas.
Day services offers door to door transport, recreational and lifelong learning activities, a full meal and refreshments and social opportunities. Day services also provides respite facilities for carers.
Our day services in Bakewell, Hope, and Hulland Ward are funded by Derbyshire County Council.
"Coming to the day centre is the focal point of my week, something to look forward to and give structure to my week."
Private places are available in all three venues.
Peak FM
In February 2018, Peak FM ran a campaign to end lonelines call #dontdancealone. As part of this campaign presenter, Richie Pearson visited the Bakewell Day Centre. His report helpfully explains what the Day Centre is all about.
Who is it for?
Our day services offer the highest quality care and support to older people in a variety of settings in rural areas:
Bakewell and surrounding villages
Hulland Ward and area
Hope Valley
Referral is via Adult Care, Derbyshire County Council. Under Fair Access to Care standards you must meet the eligibility criteria for risk categorised as 'critical' and 'substantial'.
Our Information and Advice Service can help you get an assessment of your needs and any benefits you may be entitled to.
What are the day services?
A flexible day service where you can come along relax meet new people and make friends in a warm, friendly and safe environment.
What are the benefits?
Reduced isolation and improved self-confidence, social skills, communication and motivation
Improved nutrition and monitoring of older people at risk of malnutrition
Reduced risk of elder abuse due to monitoring and support for carers
Increased activity levels leading to improved physical fitness, balance, co-ordination, personal care and physical control
Intellectual stimulation from activities and new experiences, trips and discussions reducing incidents of depression and improving outlook
What are the charges?
For details of current charges, or for private places, please contact the relevant manager as listed below:
How do I find out more?
New enquiries
If you would like to find out more about attending any of our day centres for the first time, please contact:
Alison Milner on 01773 766922
Existing clients
For invoicing, please contact Alison as above. If you need to contact the centre direct, the details are below:

Sarah Smith
Bakewell Day Services
We have now moved our Bakewell Day Care to the Medway Centre.
Medway Centre
New Street
Bakewell
Derbyshire DE45 1DY

Telephone: 07712 568838
Day care sessions: Monday and Thursday

Heather Shepherd
Caroline Court Day Service
Marsh Avenue
Hope
Hope Valley
S33 6RX

Telephone: 01433 621 887
Day care sessions: Monday, Wednesday and Friday.

Sarah Smith
Hulland Ward Day Service
Hulland Ward Village Hall
Hulland Ward
Nr Ashbourne
Derbyshire
DE6 3EA
Telephone: 01335 372 811 (or contact Bakewell Day Centre)
Day care session: Thursdays.
Safeguarding adults
If you have any concerns about whether an older person, or yourself, is being abused or neglected, please see our safeguarding adults page for help. We are committed to preventing the abuse and neglect of vulnerable adults.
Other information you may find helpful
Related pages on our website
Related pages on other websites