For any new user enquiries or more details please contact us on 01773 766922 (option 2).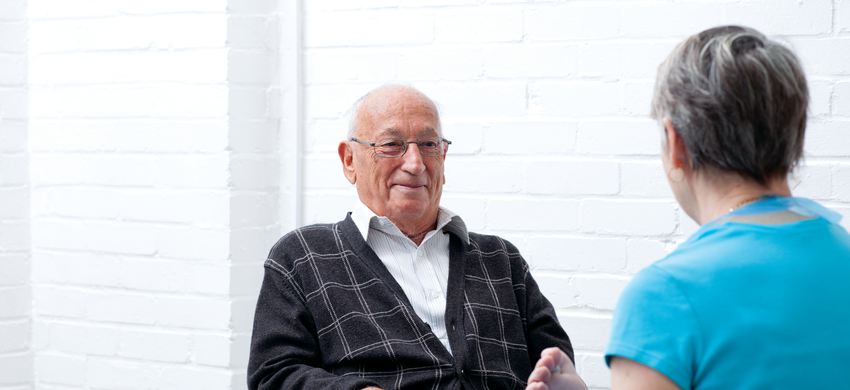 Age UK Derby and Derbyshire and NHS Derbyshire County are working together to offer an affordable, long-term footcare solution for people aged 50+.
"I didn't need a full chiropody service, just basic treatment and advice and this is a wonderful service I willingly pay for"
About Tootsies Footcare Service
Toenails seem like such a little thing but left un-trimmed they can affect your mobility, balance, confidence and lead to long-term complications.
But keeping your toenails trimmed and managing your foot hygiene can be a real problem if you have difficulty with your eyesight, mobility, grip or if you have thickened toenails.
Caring for someone else can also mean you start to manage another person's personal care but feel anxious and lack confidence to tackle new skills.
Age UK Derby and Derbyshire and NHS Derbyshire County are working together to offer an affordable, long-term solution.
Tootsies Quality
• The service is delivered by a small trained team of 4 paid staff and up to 5 volunteers.
• The team are fully trained by Derbyshire Community Health Services Podiatry Department.
• The Tootsies team are trained to complete First Contact checklists to help you access help and support when you need it.
"I wish I had nice feet but it does feel lovely having feet done here"
Tootsies Treatment
• Each appointment takes approximately 30 minutes. Your first session will take longer.
• ;A footcare treatment includes a 10 minute soak, nail trim, file hard skin, dry and apply lotion. Help is available to remove and replace footwear, stockings etc.
• Tootsies will visit each venue once every six weeks allowing you to make regular bookings to manage toenail growth.
Using Tootsies
• Its simple. Call us on 01773 766922 and ask to make your first appointment.
• You will receive information about how to get there, the costs and the service you will receive.
"my feet feel so light afterwards, like I am walking on air"
At your first appointment
A footcare worker will assess your foot health and decide whether Tootsies can help or whether a referral to a podiatrist is necessary. If you need to see a podiatrist Tootsies can make a referral to the podiatry team. If everything is alright you will start your first treatment.
How much does it cost?
| | |
| --- | --- |
| Assessment and registration | FREE |
| Treatment (30 minutes) | £15.00 |
| Nail clippers and file set | £5.00 |
"the service was absolutely fantastic with first class treatment, giving a better service than anyone else previously used".
How do I find out more?
'Tootsies' Footcare Service,
29A Market Place,
Heanor,
Derbyshire.
DE75 7EG.
T: 01773 766922
How do I volunteer?
If you would like to volunteer with us, full training is provided by the Podiatry Service, Derbyshire Community Health Service. For more information about the roles available and an application form please contact: Age UK Derby and Derbyshire on 01773 766922.
Where are the sessions?
Safeguarding adults
If you have any concerns about whether an older person, or yourself, is being abused or neglected, please see our safeguarding adults page for help. We are committed to preventing the abuse and neglect of vulnerable adults.
Other information you may find helpful
Related pages on our website
Related pages on other websites