Our popular Day Centre is a chargeable service which currently runs on Mondays and Thursdays in the Johnson Hall at the Greenford Community Centre. It aims to improve the quality of life for older people by helping them to be as independent as they can be and to be with other people – we work in partnership with Ealing Community Transport (ECT) to bring people to the centre. By bringing a group of people together for social activities enhances their confidence, independence and helps them combat loneliness and isolation.
Our warm and welcoming Day Centre provide service users with both practical assistance and a chance to socialise, with the support from qualified staff and volunteers – our service users enjoy a wide variety of activities which promotes health & wellbeing including: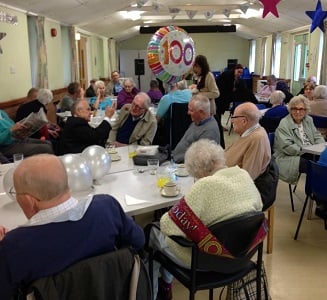 gentle exercises such as chair-yoga
bingo
arts and crafts, knitting
board games, puzzles, games
singing
birthday celebrations
and much more...
A hot meal at lunch time is provided as well as tea, coffee and light snacks during the day.
Before you begin, our Day Centre Manager will visit you at home to discuss what we provide so that you can decide if this is the right service for you. We will help to organise your transport to and from the centre and discuss any concerns that you may have.
Our referrals process
Referrals can be made by individual clients, professionals, family members, friends or carers.
Potential client interested in coming to the Day Centre contacts Age UK Ealing's Day Care Centre Team.
We will discuss with you what we do, and we will then set up a home visit to assess the needs of the client and to get to know them.
If the potential client confirm his/her interest and we believe the Day Centre will be beneficial for them, a trial day for them to visit the centre will be agreed.
The trial day is free of charge and will enable the potential clients to experience a day at the Centre. They will partake in activities such as exercises, crafts and other games which take place on that day. They will also receive a free lunch on the day.


Opening Hours
Mondays and Thursdays:

9:30am until 4:00pm
Telephone: 020 8578 2712 Option 1
If you are interested in attending or know someone who you believe would benefit from the service please call us on 020 8578 2712 Option 1 and ask for the Day Centre Manager or email daycarecentre@ageukealing.org.uk.