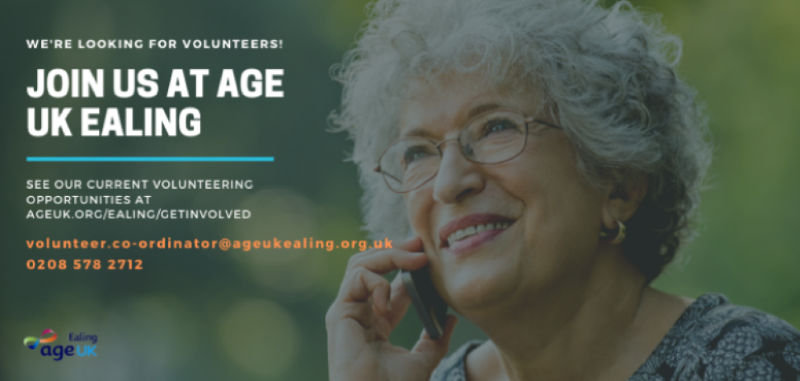 Feedback comments from some of our volunteers about their experience
"I really enjoyed volunteering with Age UK Ealing. Please continue the amazing work that you do as a charity and as a team. It was pleasure to interact with everyone and witness the hard work you all do." Fardowsa
"I've loved every minute of volunteering at Age UK Ealing, and perhaps it's something I can come back to in the future." Melissa
"As a volunteer I sincerely hope that I make a small but useful contribution to the work of Age UK Ealing. In return I really enjoy and value the camaraderie of being part of a great team." Anonymous
"From the start I felt very much part of Age UK Ealing team. I enjoy my weekly telephone calls to clients, catching up on their news and listening to their worries. If a client is feeling a bit down I try to cheer them up. I think they look forward to my call." Mary
"As a yoga teacher, I enjoyed contributing to the wellbeing and happiness of the people who attended the Greenford community centre . I taught a Chair Yoga Class at the Centre every fortnight for the last three years. I felt rewarded when I saw how much everyone enjoyed the class. I would very much recommend volunteering with Age UK Ealing, they are very supportive and encouraging." Mehran
"I enjoy volunteering at Age UK Ealing. I like helping and talking with the clients at the Day Centre and the staff and volunteers are very helpful." Winnie
"I've been a Befriender with Age UK Ealing for four years and absolutely love the weekly telephone calls to my Friends. As well as having a chat and a laugh, I get to hear some remarkable stories and life experiences. I'm also there to listen if anyone is going through a tough time, because it's good to share the burden with a sympathetic ear. I find volunteering for Age UK extremely rewarding and would recommend it to anyone with an interest in improving the lives of older people." Victoria
"I enjoy volunteering because I like to help and talk to vulnerable people, taking them out for short walks etc. Age UK Ealing have been very supportive to me as a volunteer and as a charity for older people." Barbara
"I enjoy volunteering because I like giving to people and I get a lot of satisfaction from helping." Fred
"I volunteered for Age UK Ealing about 4-5 years ago because I wanted to give something back because I felt I had been blessed in many ways in my life. However, what I did not bargain for was I have been the receiver as much as the giver. I have learned and gained so much pleasure from these people that are in the main alone now in the world. God willing we will continue to benefit each other for a long time to come. Blessings." Joy
"What I like and enjoy about volunteering for the elderly is knowing the vast difference you can make in a person's life, it's about giving back to the community and also gives you a feeling of self-worth, it's a two way street so to speak, you give your time and the rewards are both volunteer and client are building trust and good communication. I have seen elderly people lift out of depression through on going volunteering, I look forward to growing within Age UK Ealing and continuing to make a difference to elderly peoples' lives in a positive way." Maxine
Current Volunteering Vacancy
AUKE is seeking a new Chair of the Board of Trustees to replace the current Chair whose term of office ends in November 2020.
Volunteering with Age UK Ealing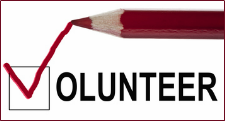 This page is designed to give you a taste of the volunteering opportunities available at Age UK Ealing. We would love to hear from you if you are interested in becoming a volunteer with us to help provide services to older people..

There are a wide range of volunteering opportunities on offer. Your role as a volunteer can be as varied or as simple as you wish and we welcome volunteers from all walks of life.
Why volunteer?
Volunteering is a great way to meet new people, learn new skills, and support the work we do in the community.
Volunteering as a route to getting back into work
Thinking about getting back into work?
Volunteering is a great way to improve your CV and give your confidence a boost if you're thinking of getting back into work. With support of an amazing team and rewarding, local opportunities ... what have you got to lose?
Who can volunteer?
Volunteering is open to almost everyone. We have a wide range of roles which suit different people and different skills.
How much time do I need to give?
We expect most volunteers to commit to at least 6 months and the choice of days and times is dependent on the vacancy and the role advertised. For example a customer service volunteering role requires at least 3 hours, a befriender or Day Centre helper can commit to as many hours as they wish from a minimum of two hours per week.
Is there and age limit to volunteering?
There is no age limit as such, but certain roles can only have aged 18 and over such as advisers visiting older people in their home & befrienders.
Each volunteering role advertised will specify what age is accepted.
Are there any other restrictions?
Volunteers who will be visiting clients in their homes need an enhanced DBS check.
Current Vacancies
Provides assistance to clients at their homes or in the office, with the completion of their application forms for various applications such as accessible transport eg:- Blue Badge forms, Attendance Allowance and other forms.

Currently during the pandemic mainly telephone work will be required.

As the first point of contact for all clients, this is a key volunteering role which makes a huge contribution to the work of Age UK Ealing. You will help us to provide a welcoming voice on the telephone or a welcoming face to all visitors and help us to manage an effective referral process for enquiries.

Currently during the pandemic mainly telephone work will be required.

To provide companionship, combat loneliness and social isolation.

Currently during the pandemic mainly telephone work will be required.