Age UK Ealing offers a free and confidential information and advice service for older people, their families and carers in the London Borough of Ealing.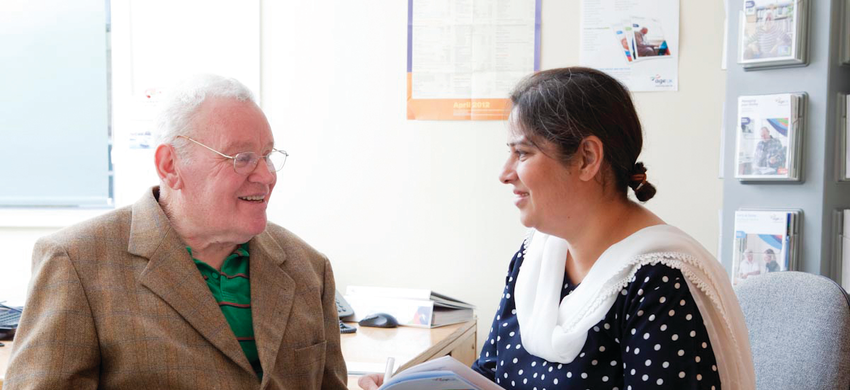 Age UK Ealing Information and Advice Service is a consortium partner of the Ealing Advice Service (EAS) funded by Ealing Council and NHS Clinical Commissioning Group.
Our partners include Ealing Mencap, Deaf Plus, Ealing Centre for Independent Living (ECIL), Family Action, Havelock Family Centre, Ealing Advice Forum, MIND in Ealing and Hounslow, Nucleus and Parents of Ealing Self-Help training Scheme (P.E.S.T.S).
The consortium handles over 2,000 enquiries per quarter and offers free and confidential advice and support on a wide range of subjects including:
welfare benefits
transport and travel
social care
immigration advice
debt and money management
employment
consumer
contract
general advice
Our Information and Advice centre is based at our office in West Ealing. We provide advice and information to people aged over 50 who live in the borough of Ealing and the people who care for them. If we are unable to deal with the issue ourselves, we will find another organisation who have the expertise and knowledge and refer you on.
Age UK Ealing also provides other Information and Advice services to older people, as part of its commitments as an Age UK partner.
Contact Us
Our services are currently reduced to telephone support only until further notice due to the Coronavirus situation.
Monday to Friday 10.00am to 4.00pm (closed between 1.00pm and 1.30pm)
We offer an information and advice service for older people, their families and carers in the Ealing area.

Age UK Ealing is now also working in partnership to deliver advice to adult residents of Ealing with health and social care needs.
Are you looking for a business or trader you can trust? Our Business Directory can help connect you with local reputable traders and businesses that have been checked by local Age UK staff.

Links to organisations that provide useful information and advice services for older people, their families and carers.
Free booklets and online information
Age UK produces free information guides and factsheets on a wide range of topics, including home adaptations, dementia, and advice for carers. You can find a complete list of guides and factsheets on the Age UK national website.

If you prefer to read information online, the Age UK national website has information and advice on many topics, including how to find a care home, how to avoid scams, and Power of Attorney.