CHIEF EXECUTIVE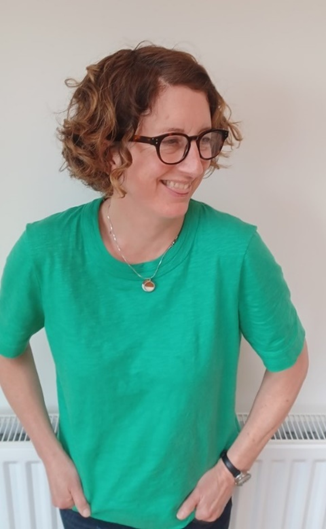 Mary-Ann Foxwell - CEO
Mary-Ann Foxwell joined AUKEL as Chief Executive in April 2023. Previously Mary-Ann has worked for a variety of national and local charities, most recently as Chief Executive of Citizens Advice Wandsworth. She is a values-led leader who believes passionately in collaboration; she understands that everyone benefits when established charities (like AUKEL) work generously with partners across sectors including with community and faith groups. Mary-Ann has a track record of building teams where kindness is valued and everyone has a voice - she believes that happy teams provide good, responsive and kind services.
SENIOR MANAGEMENT TEAM
Aaron Gayle-Facilities Manager

Aaron Gayle has over 5 years of experience in the charity sector starting as a Business Manager, managing multiple charity serviced office buildings which housed 62 charities (600 staff), community interest companies and social enterprises. Within that time, Aaron has provided a range of skills which includes space planning, contractor management, project lead, premises maintenance, contract management, health & safety, account management, and building compliance with UK legislation. In addition, he is very passionate about providing the elderly and the most vulnerable with the necessary tools and support to enjoy a better quality of life

Deborah Hayes- Director of Care and Services Development - Designated Safeguarding Lead & Caldicott Guardian

Deborah Hayes is our Director of Care and Services Development having previously held the role as Director of Services at Age UK Newham. Prior to Age UK East London Deborah worked for over 25 years in the housing field both as a housing manager and project manager overseeing both refurbishment and new builds.
Deborah is passionate on services meeting the needs of those with dementia and acts as our dementia lead.
Geetha Umaasuthan- Director of Finance and Operations

Geetha Umaasuthan has extensive experience in Finance, with more than 25 years in the commercial and charity sectors. She has worked as a Finance Director at Trinity Homeless Group for the past 12 years and has also worked for Mind previously. Geetha has also worked for Arthur Anderson in Columbo as well as Diageo, Air Products plc and Musgrave in the UK, across various financial roles. She qualified as a Chartered Management accountant and became an ACMA in 1997 before obtaining an MBA degree from University of Lincolnshire in 2001. She is passionate about providing hope and a good quality of life for the vulnerable elderly and children. Whilst interested in the creative arts she also enjoys travelling and making various cuisines from different parts of the world. She is a trustee of Swarthmore care home and was involved in fundraising for a school via their Parents' Association.

Larissa Howells - Director of Services

Larissa Howells has over 18 years' experience in the charity sector starting as a volunteer community artist working with children and young people in Lambeth. She has gone on to oversee the implementation of many large-scale public engagement programmes within disadvantaged communities around the UK. Her range of programmes have included employability, arts, mental health and wellbeing across all age groups. She is a trustee of innovative youth arts charity, Youth Urban Arts Foundation and was acknowledged as a 'UK Change Maker' in 2014 for her commitment to improving the lives of others.
SERVICE MANAGERS
Adam Pervoe- Head of Advice, Advocacy and Integration

Adam started his career in Health and Social Care working in dementia services with Housing and Care 21 before moving into home care and reablement management with the same organisation. He has worked for Family Mosaic in Havering before moving into Enablement Services with Age UK Islington. He has 9 years of experience supporting older adults in a variety of settings across four London Boroughs.

Simon Shum- `Community` Service Manager

Simon has worked in the charity and education sector for over 17 years. He has previously worked for a user led older people's charity `Open Age` for 8 years which delivered services across the three boroughs of Kensington and Chelsea, Westminster and Hammersmith and Fulham. He has also previously worked as an employment advisor, IT tutor and facilitator and also in a variety of bookshops. He has always been interested in Time and Ageing and feels there is currently a great need due to the increase in an ageing population, for this to be addressed in society, alongside social equality and justice.
Kay Munns- Home and Care- Service Manager

Kay has worked in Local Authority (London Borough of Waltham Forest) Adult Social Care for the past 29 years. For the past three years within the service she has worked at Whipps Cross Hospital with the Integrated Supported Home Discharge Team.

She is passionate about working with vulnerable people to support them to receive a high standard of service and maintain a good quality of life.