Are you aged over 50 and live in Tower Hamlets? Would you like the chance to have your say about services in the borough?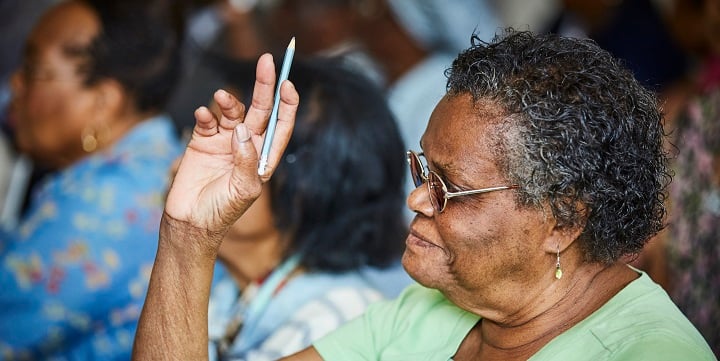 Your voice and opinion as an older person is the most important when it comes to planning services that affect your life.
Come along to the Older People's Reference Group for information, meet speakers from service providers to give your views about the services they offer. Take part in small discussion groups & attend special events.
Meet other older people.
The Older People's Reference Group is here to listen to you, and to help you tell local health and other services what you want. We will work together with the borough and the health services to improve their services by listening to you and learning from your experiences.
Tower Hamlets older people's Dignity Code
Negative views of older people - ageism - can lead to a lack of respect for us. This can mean petty humiliations in everyday life, or a second class service in health care, insurance and many other areas.
For this reason, Tower Hamlets Older People's Reference Group consulted its members on what dignified treatment meant to them. We have learnt from the experience of City & Hackney OPRG and of the National Pensioners' Convention and drawn inspiration from the 10 Point Dignity Challenge campaign that was launched by the National Dignity Council.
The Code is aimed at providers of services to older people, such as health and social care providers, including housing providers and care homes with a view to improved provision of services particularly around dignity.
We are therefore delighted that the Code has been endorsed by the Tower Hamlets Clinical Commissioning Group, the London Borough of Tower Hamlets, Healthwatch Tower Hamlets, Barts Health NHS Trust and the East London NHS Foundation Trust. We hope this support will be translated into staff training and commissioning and procurement of services.
For a full copy of the Dignity code please click here.
For further information on the Tower Hamlets OPRG please click here.
To download the PDF version of this page please click here.
Tower Hamlets Older People's Reference Group June Newsletter
Please read the OPRG's newsletter here.
How to contact us
For more information about the Tower Hamlets OPRG please email Grace Patient, Project Coordinator or call us on 020 89817124.