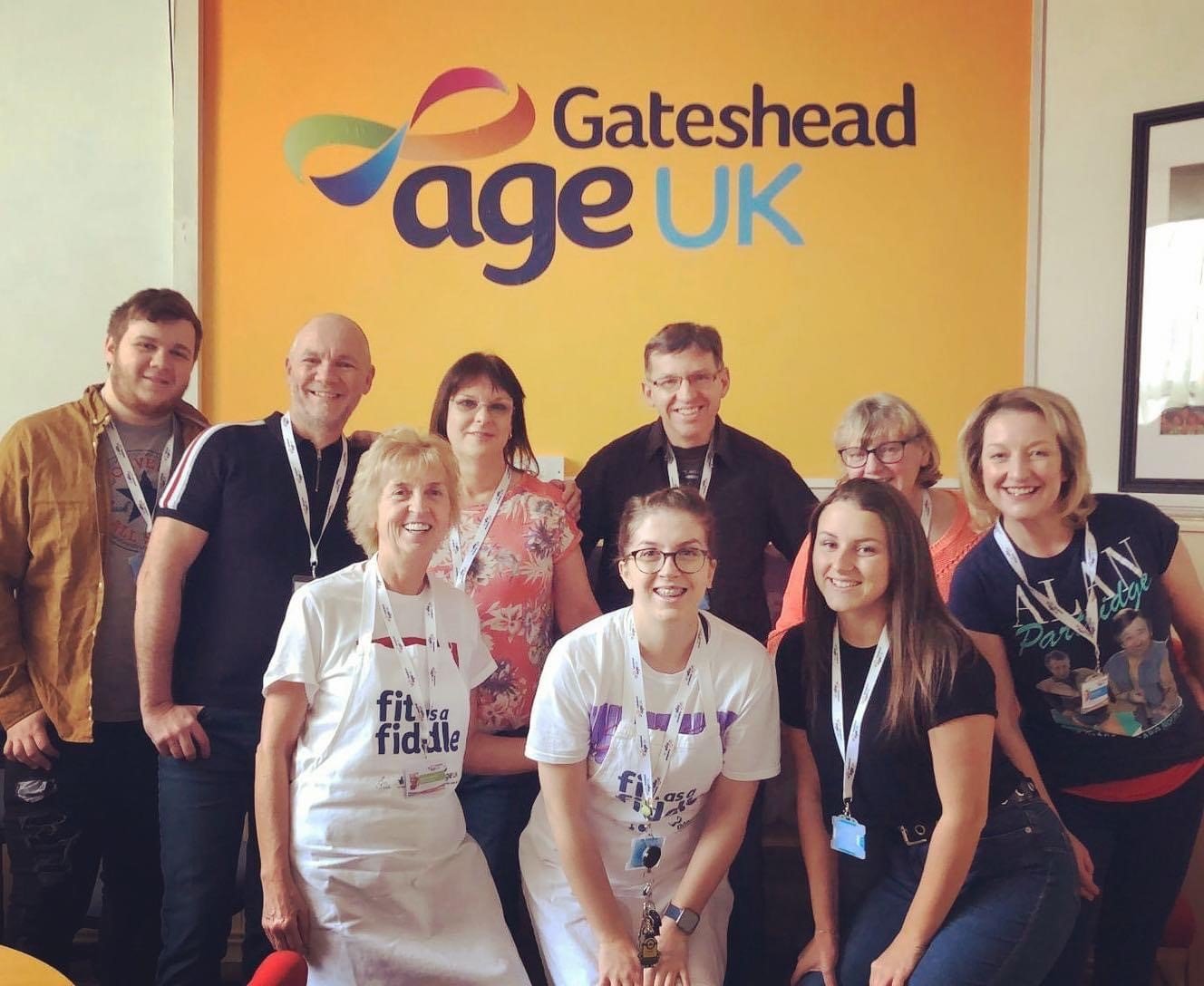 Although our usual activities and clubs have been postponed, we have worked hard to develop new services that supported people through this period of isolation.
Our dedicated staff and volunteers are offering a number of services for those who are unable to leave their homes.
As a charity we have always been part of our community. A voice for the unheard and caring support with a listening ear for those who need it but we also know loving later life goes beyond the crisis and into social interaction, exercise, culture, art and groups of common interest.
Pre COVID-19 we provided weekly 6 day centres, 6 dementia service centre, stroke rehab service, living with and beyond cancer service, mental health support, bereavement support, 39 exercise classes, income maximisation through benefits advice and claims, advocacy, housing aids and adaptations and palative care. There was also 38 social groups provided monthly for clients.
Due to COVID-19 all services were stopped and replaced with:
Shopping Service
The shopping service is a service that receives shopping requests from those wishing to self-isolate or unable to access to shopping themselves. A volunteer is then the shopping list, purchases the shopping and delivers the food to the clients door cantactless.
The shopping demand was an average of 251 per week

The average spend from the charity per week was £7008

The service was delivered via 1000 mutual aid volunteers that now form part of the organisations volunteer base
Welfare Calls
395 Daily phone calls made by paid employees and partners based within professional services
3145 Weekly calls made by partner agencies such Gateshead Council & NHS Business
10,709 monthly welfare calls delivered by the organisation in partnership with private sector companies
The purpose of friendship and welfare calls provides both human contact a listening ear and an opportunity to identify further need such food, prescriptions or mental health pressures. Partners helping Age UK Gateshead make this number of calls are: Gateshead College, Gateshead Council, Adult Social Care, InTu Metro Centre, Virgin Media, Sage Accounting, LNER, EE, Sky, and Northern Gas.
Food Parcels
Food parcels are the responsibility of Gateshead Council and the 5 neighbourhood support hubs however demand for food parcels outside the authorities accessible hours have fallen to Age UK Gateshead. Over the weekends and Bank holidays Age UK Gateshead has provided 53 food parcels to those in most need at a cost to the organisation of £1020
Hot Meals
The hot meal service delivers across the borough in partnership with Dean Taxis who free of charge are delivering to areas in the West of the borough. Hot meal provision is free to our dementia clients and their next of kin, alongside this we are cooking and delivering a fluctuating number of meals against a fixed menu.
Hot Meals demand 420 a week
Delivered in partnership with

Dean Taxis
Staiths Café
Volunteers chefs
Prescription / pension collection
The average number of perscriptions per week was 112 this service worked in the same was as the shopping service did.
Pension collection had a low demand standing at 8 per week. The organisation is a recognised DWP sub office due to its quality support and benefits work, this allows the DWP to deposit funds into the organisations account and monies to be taken to the client.
Energy Bills
Staff have contact energy suppliers on behalf of 153 people to
Defer over 87 bills

Remotely top up 57 electric meters ( deferred billing)

Remotely top up 88 Gas meters ( deferred billing)
On line Fitness
The organisation has established Active Age over a ten year period in Gateshead and recently inherited Active Age provision from the now folded Age UK Newcastle. The project developed over ten years ago runs on the principal that each class has enough attendees to cover its running costs with any surplus going into expansion and the provision of free taster sessions across the borough.
Newcastle tutors have collectively delivered on line tuition via zoom to not only their own client base but that of Gateshead attendees with participation level increasing substantial over the last 6 weeks. The organisation has facilitated this process by contacting each Active Age Client and offering them the opportunity to take part, sending the zoom link to click and be in the virtual class.
Mental Health Support
we are managing to support 72 individual at point of crisis with a further 101 needing continuous welfare provision. The service has seen an increase in supporting those who are threatening suicide from 3 a month to 5 a week.
Bereavement Service
Our Bereavement Support Team helps individuals and families with practical support in the days and weeks following a loss. Staff and volunteers help clients with anything that might be needed, from registering the death to arranging the funeral, writing letters and sorting through personal effects. The Service also recognises that clients, who have experienced bereavement, can find it difficult to talk to family or friends about problems or to confide and explain how they are feeling.
Respite Sitting Service
Age UK Gateshead to provide a dementia support service currently support 48 clients with attendance levels per session standing at 18 per day over 6 days a week. We recognised the vulnerabilities of not only these clients but their next of kin and therefore provide a respite sitting service over 7 days a week:
38 clients access respite care

Daily we provide 37 hours of respite care

All clients receive hot meals

All clients receive Cognitive Behaviour and fine motor skills provision

Activity packs that meet their interests

Family face time (the reassurance and impact of this service is invaluable)

Daily welfare visits

Daily prompted medication visits
Overview
Pre COVID the organisation had a client base of 10,789 with an active client base of 3,851 supported by 32 staff (18 Full Time Equivalent) and 147 volunteers. During the pandemice these numbers changed drastically to had a client base of 14,789 with an active client base of 11,851 supported by 22 staff (11 FTE) and 2149 volunteers.
The organisation closed its Info and Advice provision and restructured its process to mirror those of a contact centre along with phone scripts and service policies, the team delt with:
Incoming calls at peak levels are 5 every 58 seconds
Incoming calls at low levels 1 every 6.4 minutes
Average daily calls 200
Busiest Day 10am – 3pm 632 calls
The organisation has run with a robust volunteer cohort of 147 volunteers however due to public health England guidance 87 of them had to self-isolate which is a reflection of the age of volunteer we have. Within the first week of lock down our volunteer base increased to 529 from direct applications to be part of making a change to their communities. In the following weeks we were joined by 17 mutual aid groups taking the volunteer number to 2149. Due to the relaxation Of GDPR we opened up the organisations CRM providing access to 27 Mutual Aid organisers within a restricted area of service requests, this enables full community delivery to meet service demand.
We would like to say a big thank you to:
Charities – Edberts House, FACT, Search, St Chads
Private Sector – LNER, Northern Gas, Sage Accounting, InTu Metro Centre
Public Sector – Gateshead Council, Gateshead College, QE – Hospital
Community - we have 189 Volunteers in Newcastle and 1960 in Gateshead.
Head Line Figures
Number of Volunteers 2149
Number of welfare calls made per month 34,349
Number of incoming calls per month 5,600
Number of hours respite care each month 1036
Number of shopping trips per month 1004
Number of prescriptions collected per month 448
Number of Hot Meals per month 1680
Number of people with mental health challenges supported 173
View this post on Instagram

View this post on Instagram
View this post on Instagram

View this post on Instagram
View this post on Instagram

View this post on Instagram
View this post on Instagram

View this post on Instagram
View this post on Instagram

View this post on Instagram