Free Computer Cafes!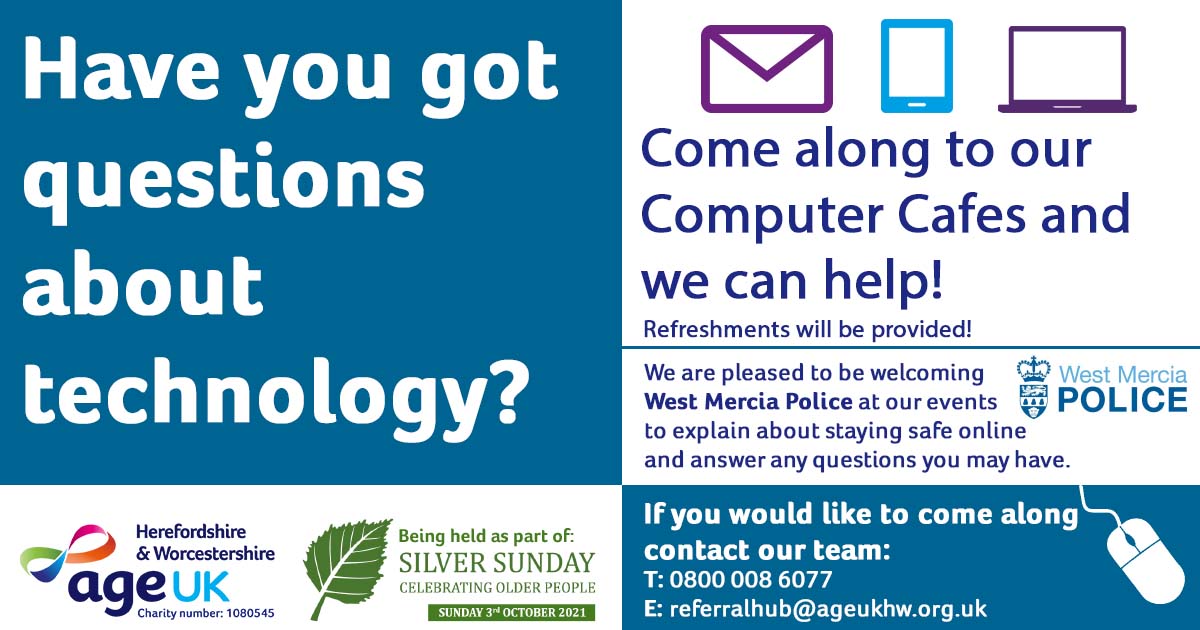 Published on 14 September 2021 11:09 AM
Join us this Silver Sunday throughout Herefordshire and Worcestershire for our FREE computer cafes where you can get support and ask questions about using technology.
We can help with things like:
- General use of your technology
- Sending emails
- Using a search engine (Google)
- Online shopping
- Using social media (Facebook, Twitter etc)
We are holding 3 free computer café events to support older people with technology, the details can be found below:
Saturday 2nd October 2021 – Ross-on-Wye Computer Café, 10am-2pm held at our Ross-on-Wye office.
Sunday 3rd October 2021 – Hereford Computer Café, 10am-2pm held at The Kindle Centre, ASDA Supermarket, Belmont Road, Hereford, HR2 7JE. If you would like to join us at our Hereford cafe please call: 07341569156.
Wednesday 6th October 2021 – Worcester Computer Café, 2pm-6pm held at Age UK H&W Worcester Office, Malvern Gate, Bromwich Road, Worcester, WR2 4BN
At both our Ross and Hereford cafes we will be introducing our new digital inclusion support that will be running throughout Herefordshire. This new service will provide 6 week courses to support you to get online and feel confident with technology. Come along to find out more!
We are pleased to say that representatives from West Merica police will be joining us at our Hereford and Worcester cafes to talk about how to stay safe online.
Refreshments will be provided.
To join us at our Computer Cafe please contact our referral hub, using the details below:
T: 0800 008 6077
E: referralhub@ageukhw.org.uk
Please ensure to contact our referral hub to book a space on our computer cafe so we can coordinate the number of attendees.
Contact Age UK Herefordshire & Worcestershire:
Telephone: 0800 008 6077
Email: referralhub@ageukhw.org.uk