To our local Community,

First of all, can I thank everyone for their kind wishes and many offers of support during these very challenging times. Please keep safe and well. I'd also like to take this opportunity to publicly thank the many other organisations in our community that work closely with us.
Importantly, I want to thank everyone in my team, here at Age UK Herne Bay and Whitstable, whether working behind the scenes in our commercial kitchens, working from home, providing management and office support to keep vital services going, or delivering vital key worker services on the front-line, seven days a week.
Three weeks ago, following Government instruction, we were faced with very difficult decisions to suspend a number of our popular services, but the health of older people, staff and volunteers always comes first.
We are working very differently now as we focus on meeting growing demand for our Fresh Meals Delivery Service. Last week alone we delivered in excess of 700 meals. Also contacted over 500 older people via a regular 'how are you' and 'how can we help?' telephone call. Even our wonderful washed, dried and ironed laundry service has adapted to be Covid19 compliant.
Sainsbury's in Herne Bay and Waitrose in Canterbury have supplied us with goods to provide free emergency food packs to the most vulnerable – thank you both. Innocent drinks have also donated. Big thanks also to Mackaris Fish and Chip Shop in Herne Bay that donated 53 lunches to some of our couples isolated at home.
Pupils of Briary Primary, St. Alphege CE Infants, St. Mary's Catholic Primary and Herne Bay Junior School worked hard in writing beautiful letters and in drawing uplifting pictures that were delivered to all those who utilise our meal delivery and laundry services – you made a huge difference, thank you.
Thank you NHS for the incredible job you are all doing, whether in hospitals, in the community, or from our many GP practices, and all the other vital blue light services. The same goes for other key workers like Personal Independence Co-ordinators and Social Prescribers who work closely with us to match needs to resources.
Our services are now aimed very much at those most isolated and lonely, who understandably will be worried and do not have any family network or local neighbourhood support.
We are always looking at other ways we can help. A few weeks ago we adjusted our specialised 'Information and Advice' service – to be a telephone only service. If you require this service, please call us on 01227 749570.
We linked in with the Herne Bay Fire Service who are collecting your generous donations of long-life food items (being collected by staff at Sainsbury's in Herne Bay) and distributing food bags to those most in need – thank you to each and everyone one of you.
Our ability to do what we do, over the immediate coming months, will depend on additional cash support to compensate for the immediate loss of significant income from those services we have suspended. As is the case for many charities in Kent and the UK, we are seriously 'at risk', but are working closely with Kent County Council to seek measures to stay afloat and keep staff employed, and importantly still be there for older people when things eventually get easier.
If you, or anyone else you know, can consider a cash donation at this time then we will be very grateful. You can visit our website and click on the 'Donate' button to donate on-line or alternatively donate through our Facebook page, which also shows our Coronavirus Emergency Welfare Campaign.
The situation is ever changing we are working hard to try and respond at the moment, and we are reviewing our position on a daily basis. Do contact us to find out if we can help you or someone you know. We don't know all the answers or have unlimited resources, but we will always do our best while we can.
Office: 01227 749570 or E-mail: reception@ageukhernebay.org.uk
Stay safe.
Sue Cliffe
Chief Officer
Age UK Herne Bay and Whitstable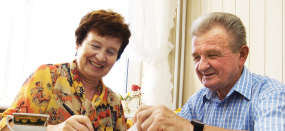 The Bradbury Centre is a place where older people who are housebound due to frailty can meet with others of a similar age for social interaction.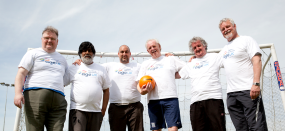 The Hazel Neville Dementia Care Unit was established in 1995 to provide specialist day care to a high standard for older people suffering from Alzheimer's or dementia.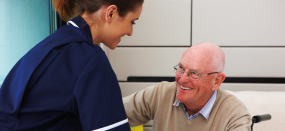 A la Carted is our home meal delivery service. The service provides nice, hot, fresh cooked meals to the tables of older people across Herne Bay, Whitstable, Chestfield, Seasalter and the outlying villages.
Latest News
Keep up to date with planned events, new services on offer, and information about how we're campaigning within Herne Bay & Whitstable to improve the lives of older people.
Our quality marks
Age UK Herne Bay & Whitstable has achieved the Organisational Quality Standards (OQS) for local Age UKs in England. The OQS are assessed externally and endorsed by the Charity Commission.