Update on Services during Covid-19 Pandemic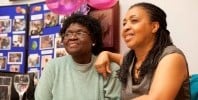 Published on 25 March 2020 01:50 PM
Age UK Lewisham and Southwark is continuing to support our communities. We are working in close partnership with a range of voluntary and statutory organisations to support vulnerable older people in our boroughs. However, we are restricting all our face-to-face activities in line with the latest government guidance
.

Please keep a look out here for further updates about changes to our services and new ways that we may be able to offer help.
Lewisham
In Lewisham we are working with a partnership of local groups including Voluntary Services Lewisham, Lewisham Council and RGTB's "Lewisham Local" programme to provide a comprehensive support service to help vulnerable people to cope with the Covid-19 outbreak.
If you need urgent support or if you want to volunteer in Lewisham please see https://www.lewishamlocal.com or ring 03330 150378 (Mon-Fri 9am-5pm)
If you need advice in Lewisham, please ring Advice Line: 0800 231 5453.
Southwark
In Southwark we are focusing on supporting our existing service users and are not currently taking on any new clients for support services – except for the Handyperson service and advice relating to benefits and housing emergencies for older people (see below for details). We hope to announce new support services soon.
Handyperson– we will only be taking bookings for priority jobs in Southwark:
Fitting Key Safes
Undertaking minor work that can prevent slips, trips and falls
To request this service please ring 020 7358 4077.
If you are on older person in Southwark with a query relating to benefits emergencies or housing repair/utility emergencies please ring us on 020 7358 4077. We will take your details and an advisor will call you back.
For all other advice queries in Southwark please contact:
Citizens Advice Southwark Adviceline 0344 499 4134
Citizens Advice Southwark Universal Credit Help to Claim service 0800 144 8444
Cambridge House Law Centre (for housing advice only) 0207 358 7025
Migrant Legal Action (for immigration advice only – 2-4pm): 0203 150 1470
If you want to donate items to a local food bank, find your nearest food bank & what they need here
If you want to donate to Age UK Lewisham and Southwark to enable us to support more local people please see our Just Giving page here
Age UK Coronavirus Guidance
If you would like more information, please see Age UK's Coronavirus Guidance.