Update on Services during Covid-19 Pandemic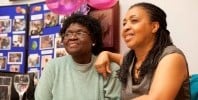 Published on 05 August 2020 10:50 AM
Age UK Lewisham and Southwark is continuing to support our communities. We are working in close partnership with a range of voluntary and statutory organisations to support vulnerable older people in our boroughs. However, we are restricting all our face-to-face activities in line with the latest government guidance.
Since Covid started we have delivered over 10,000 freshly cooked meals, expanded our Food2You service, produced and distributed Activity Packs and been in touch with thousands of older people in our boroughs. Please keep a look out here for further updates about changes to our services and new ways that we may be able to offer help – and do look at the Community Board on this website to see the impact of some of our work.
Lewisham
In Lewisham we are working with a partnership of local groups including Voluntary Services Lewisham, Lewisham Council and RGTB's "Lewisham Local" programme to provide a comprehensive support service to help vulnerable people to cope with the Covid-19 outbreak.
If you need urgent support or if you want to volunteer in Lewisham please see https://www.lewishamlocal.com or ring 03330 150378 (Mon-Fri 9am-5pm)
If you need advice in Lewisham, please ring Advice Line: 0800 231 5453.
Southwark
In Southwark we are focusing on supporting our existing service users and are not currently taking on any new clients for support services – except for the Handyperson service and advice relating to benefits and housing emergencies for older people (see below for details). We hope to announce new support services soon.
Handyperson– we will only be taking bookings for priority jobs in Southwark:
Fitting Key Safes
Undertaking minor work that can prevent slips, trips and falls
To request this service please ring 020 7358 4077.
If you are on older person in Southwark with a query relating to benefits emergencies or housing repair/utility emergencies please ring us on 020 7358 4077. We will take your details and an advisor will call you back.
For all other advice queries in Southwark please contact:
Citizens Advice Southwark Adviceline 0344 499 4134
Citizens Advice Southwark Universal Credit Help to Claim service 0800 144 8444
Cambridge House Law Centre (for housing advice only) 0207 358 7025
Migrant Legal Action (for immigration advice only – 2-4pm): 0203 150 1470
Southwark Community Hub – one-stop support during the COVID-19 (Coronavirus) crisis
Southwark Council, the local NHS and GP surgeries, charities and community and volunteer groups have come together to reach more people and make sure that everyone in the community has one-stop access to the right support during this difficult time.
Southwark Community Hub is available to anyone in Southwark and provides a place to go to where you can email or chat to someone to get advice and support on a range of issues like:
If you need food, medicine or other delivery support
If you need financial support,
If you need childcare or about education
If you are not sure how to get help for someone you know
About your mental well being
If you would like to volunteer
You want to know more about Mutual Aid Groups in your area
If you are a business or organisation that would like to help
If you are a business or organisation that needs some help
Please contact the Community Hub at covidsupport@southwark.gov.uk or call 020 7525 5000 if you would like to chat to someone about your concerns.
The Hub is hosted by Southwark Council and is a joint initiative with local charities, the local NHS and GP surgeries to provide residents with all the important information in one place. Once you have contacted the Hub you may be referred to the voluntary and community sector or NHS, depending on your need.
If you want to find out information about local services and how these are affected by the coronavirus epidemic please look at the council or service website. Some useful websites are below.
As a community, the situation we are facing is unprecedented and therefore requires us all to work together differently in these exceptional times. We are proud to be working closely together as local charities, the council, the NHS and GP surgeries to join up efforts and to ensure the most vulnerable people in our community are supported and protected. We want you to know that we've got your back, and, we will keep doing everything we can across our different organisations to support and protect Southwark's communities.

If you have symptoms of corona virus, use the 111 corona virus service or call 111. Do not go to your GP or pharmacy. Please leave phone lines free for people who cannot go online.
If you have other medical needs, look at your GP surgery's website or call your GP. GP surgeries are open for business as usual and although there are more video and telephone consultations, GPs are still there to provide advice and guidance on non-corona virus health issues such as cancer diagnosis or long term health condition management; provide ante natal and post-natal health advice; immunise children and the other things you should visit your GP for.
Useful websites:
If you want to donate items to a local food bank, find your nearest food bank & what they need here
If you want to donate to Age UK Lewisham and Southwark to enable us to support more local people please see our Just Giving page here
Age UK Coronavirus Guidance
If you would like more information, please see Age UK's Coronavirus Guidance.