Community Connections Lewisham
Bringing Lewisham to you! Helping adults of all ages in Lewisham to connect with the services around them.
You can phone us on 0330 058 3464. Our phone line is open Monday - Friday from 9:00am- 4:00pm or find our more on our dedicated website:
What is Community Connections Lewisham?
Previously Community Connections and SAIL Lewisham, we are adapting to COVID 19 and have become Community Connections Lewisham. Community Connections Lewisham (CCL) is a 'Social Prescribing' service, supporting Lewisham residents aged 18+ to find out about local groups and services. We support adults of all ages to make the changes they want to see in their lives. This may be as simple as finding out about nearby social activities and home/telephone befriending services, or it may mean giving you support and information for more complex needs such as transport, mental health support needs, caring for someone or living with a long term health condition.
How does Community Connections Lewisham Work?
When we receive a call or a referral form from you one of our team will chat with you to understand your needs and circumstances. Based on this information we will be able to provide one of three types of support:
Brief intervention - If your need is very straightforward then we can just 'signpost' you, for example, giving you a telephone number you need or details of a nearby community centre.
Referral to one of our key partners - If appropriate we can refer you directly to one of our key partner organisations (e.g. Lewisham Falls Service, Dementia Hub, Food2You, Advice Lewisham). To do this we will first ask for your consent and will need to pass on some personal details to the organisation, who will then contact you to give their specialist support.
Person Centred Planning (PCP) - If you have a range of things to discuss and would like more in depth support then we will arrange for one of our 'Community Facilitators' to call you to discuss your needs and the changes you would like to make. Because this can be a longer process, we will need to take some personal details from you and add you to our waiting list. The Community Facilitator who contacts you will have specialist knowledge about services and activities in your neighbourhood of Lewisham.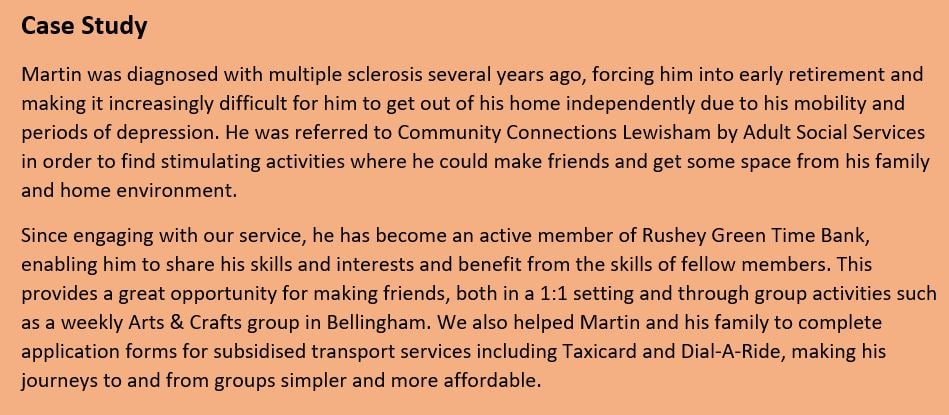 Lewisham COVID-19
For the latest information on who to contact and how to get support
Lewisham Links
Our Link Workers work alongside teams at University Hospital Lewisham to support patients who are experiencing low mood, isolation, or who wish to be more connected with their local community. Following the same person-centred approach, Link Workers support patients as they are discharged from hospital.
HIU Project
Working with One Health Lewisham, our Health Coach supports vulnerable people who regularly attend A&E inappropriately. You can find out more about the project here: https://onehealthlewisham.co.uk/extra-support-service-ess/