Community Connections Lewisham
Bringing Lewisham to you! Supporting anyone 18 or over in Lewisham by connecting them with local groups and services.
You can phone us on 0330 058 3464. Our phone line is open Monday - Friday from 9:00am- 4:00pm (except on Thursdays when it closes at 1pm) or find out more on our website:
What is Community Connections Lewisham?
Community Connections Lewisham (CCL) is a 'Social Prescribing' service, helping Lewisham residents aged 18+ to discover and access local groups and services that support their health and wellbeing. The service was launched in September 2020, merging together two former services, 'Community Connections' and 'SAIL Lewisham', and learning from our experience of leading the Covid-19 Emergency Hub helpline between March-August 2020.
We support adults of all ages to make the changes they want to see in their lives. This may be as simple as finding out about nearby social activities and befriending services, or it may mean giving you support and information for more complex needs such as transport, mental health support needs, caring for someone or living with a long term health condition.
How does Community Connections Lewisham Work?
It all starts with a chat, enabling one of our friendly team members to understand your needs and circumstances, and offer support that is relevant to you. This could be as simple as providing immediate support by giving you information ('signposting') about nearby social groups or practical support services, or where appropriate we can also refer you directly to one of our 'key partner' organisations (e.g. Blind Aid, Lewisham Foodbank, Catbytes IT Hub, VSL befriending network) so that you can benefit from their specialist support.
Along with same day support over our phone line, CCL also offers more in-depth personal planning support (up to 6 weeks) for those facing multiple and complex issues. This could include helping you address visible and invisible barriers to change. For example, supporting those with mobility issues to apply for community transport schemes like Dial-A-Ride; or helping you to access free mental health services.
New Promotional Film 'Breaking Social Isolation'
We are delighted to share our new promotional film, directed by Michael van der Put (Paper Lantern Media). Using heartfelt staff interviews and showcasing an amazing variety of social opportunities in the community, the film offers an overview of how CCL works and the positive impact social prescribing can have on people's health and wellbeing. We hope it will inspire isolated adults to get in touch and begin exploring what's out there for them!
Click here to view the promotional film.
New CCL Drop-in starting on 17th March
We are happy to announce a new weekly drop-in, where residents who have difficulty communicating by phone can meet with our staff face to face for support. Each drop-in will be able to offer up to ten 1:1 appointments (up to 20 mins each) where attendees can find out about social and practical services, just as they might do on our phone line. The drop-in will also provide a regular opportunity to socialise, enjoy a hot drink and join in with staff led activities.
When: each Thursday 2-4pm (first one on 17th March)
Where: Unit C, PLACE/Ladywell, 261 Lewisham High Street, SE13 6NJ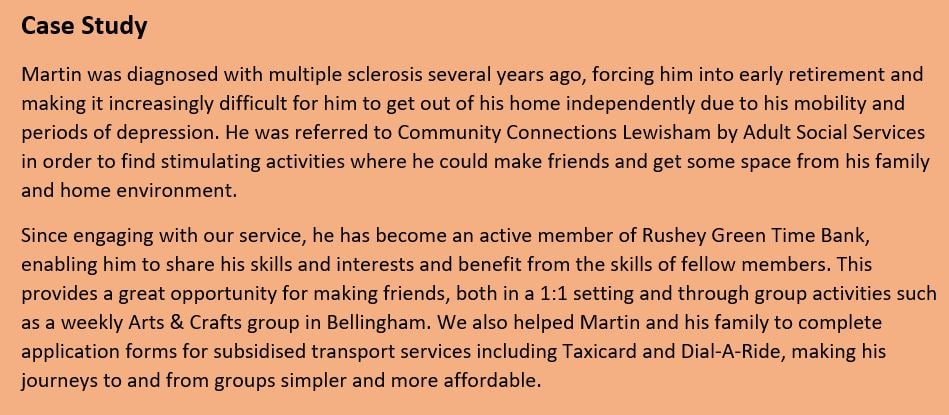 Lewisham COVID-19
For the latest information on who to contact and how to get support
Lewisham Links
Our Link Workers work alongside teams at University Hospital Lewisham to support patients who are experiencing low mood, isolation, or who wish to be more connected with their local community. Following the same person-centred approach, Link Workers support patients as they are discharged from hospital.
HIU Project
Working with One Health Lewisham, our Health Coach supports vulnerable people who regularly attend A&E inappropriately. You can find out more about the project here: https://onehealthlewisham.co.uk/extra-support-service-ess/