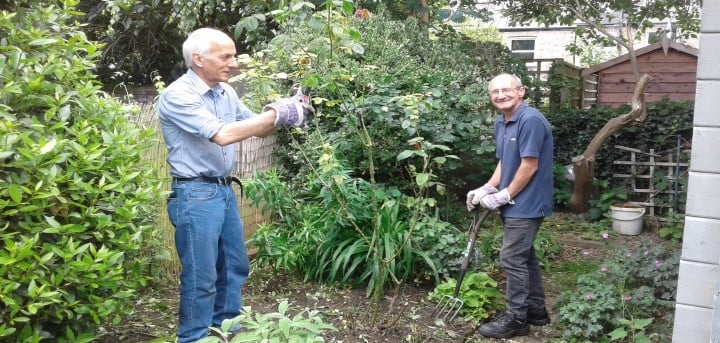 Jobs that support safety in the home, including preventing slips and falls are FREE of charge.
Other jobs are charged at £25 per hour, or £15 for those in receipt of one or more of the following benefits:
Pension Credit Guaranteed Credit (not Savings Credit only)
ESA Employment Support Allowance (income-based only)
Job Seekers Allowance
Housing Benefit
Council Tax Reduction
Universal Credit
Higher Rate Attendance Allowance
Disability Living Allowance (care or mobility components)
Personal Independence Payment (enhanced daily care component)
Please note, this service is not available outside Age UK Lewisham & Southwark - Head Office's catchment area.
Stones End Day Centre
11 Scovell Road
LONDON
Greater London
SE1 1QQ
United Kingdom
The Handyperson team can help with a wide range of small jobs to help older people and their carers live safely and independently at home.
List of Free of Charge Jobs
FALLS PREVENTION
Changing light bulbs / starters / checking flickering lights
Clearing leaves from paths to reduce slips and falls
Fitting grab-rails and hand-rails
Relocating or tacking down wires and/or cables
Relocating small amounts of clutter in hallways and on stairs
Replacing an existing, but defective toilet seat
Securing a toilet seat
Tacking down or taping loose or fraying carpets

FIRE AND HOME SECURITY
Attaching door chains
Smoke Alarm checks
Installing carbon monoxide monitors
Put up / take down curtains / blinds and rails / tracks
Replacing like-for-like external door locks (front and back doors)
Tightening locks / door handles / door hinges

ENERGY / WATER EFFICENCY
Bleeding radiators
Checking windows and doors if not closing properly (where no major work is required)
Fitting draught excluders
Replacing batteries in thermostats
Tightening dripping taps / showers

HOSPITAL DISCHARGE
Fitting Key Safe – purchased by client
"Micro Environment": For hospital discharge or to make space for equipment – Referrals accepted from Southwark Council Adult Social Care or the Hospital Discharge Team.
Removal or change of key safe code
Charged For Jobs
The charge is per hour (apart from gardening jobs: see below for details). A reduced rate is available for those in receipt of one or more of the benefits listed above.

Jobs are charged at £25 per hour

Or £15 per hour if you are in receipt of one or more of the benefits listed above.

Clients receiving the reduced charge will be asked to provide proof of eligibility at the time of appointment to a member of the Handyperson Team. Where no evidence is provided, the Handyperson Team will charge the job at the reduced rate but keep a note of the outstanding evidence requirement and request that this is provided before any subsequent jobs are undertaken.

If a job is booked for a chargeable job and the Handyperson is unable to complete the job, the client will not be charged (with the exception of gardening jobs).

Please contact us if you have jobs that are not on our lists and we will discuss whether these can be done and if you will be charged.
List of Charged For Jobs
FIRE AND HOME SECURITY
Manageable small repairs to garden gates / fences
Replacing locks that are not a direct replacement (Assessment may be required)

GENERAL ODD JOBS
Assembling flat-pack furniture
Basic TV installation and retuning
Cat flaps – replace like for like (Assessment may be required)
Changing letter boxes / door numbers
Changing plug socket covers / light switches / dimmer switches for like for like replacements
Clearing leaves / plants that are not blocking access or pathways to the property
Fitting and setting up video door bells
Fitting basic, conventional wireless doorbells
Fitting bathroom accessories – e.g. toilet roll holder / towel rail
Fixing or installing sensory security lights
Installing shower rail / curtain
Installing washing machine / dishwasher / cookers (not requiring plumbing / gas work or rewiring)
Letter boxes – replace like for like (Assessment may be required)
Manageable small repairs to garden gates / fences
Measuring up for new furniture and appliances
Moving items of furniture or taking furniture outside for collection (collection must be booked)
Putting up clothes lines
Putting up pictures / hooks / racks / mirrors / light shades
Putting up shelves or units
Rehanging doors (No major works. Assessment may be required)
Relocating furniture or items in the home (where not required to prevent slips, trips and falls)
Renewing bath, shower and kitchen sealant
Repairing cupboard doors / drawers
Replacing batteries in conventional doorbells
Replacing shower curtains / screen / attachments
Replacing sink tapes where possible (no bath taps)
Replacing toilet seats (if no fault / upgrading)
Shed repairs and maintenance (including demolition)
Small repairs to bathroom tiles / replacements
Taking down / putting up curtains for washing or maintenance
Turning mattresses
Window cleaning – external windows. Ground floor only and reachable by foot or safe step ladder
Window cleaning – internal windows. All floors
Garden Maintenance
We can carry out light gardening jobs during the summer. This service will be reopening in June.

Gardening work is charged at £25 for two hours (there are no concessionary rates). We are only able to carry out a two hour visit so larger jobs may not be completed.
Jobs We are Unable to Complete
Decorating / Tiling
Electrician – wiring jobs
Fitting new cat flaps
Fitting new letter boxes
Garden landscaping
Installing and retuning digital media boxes
Internal locks - fitting / replacing
Large decluttering jobs
Moving or repairing hospital beds / chairs / equipment
New fencing / fence posts
Plumbing – unblocking / replacing
Removal company jobs / house clearances
Roofing
Tree surgery / uprooting tree trunks

The team are unable to visit if the property if there is a pest or rodent issue (e.g. bedbugs, cockroaches). If the issue is being treated by pest control, the Handyperson Service can visit once treatment has been completed.
Assessments
Where the Handyperson Team need to assess the job and advise what tools and materials may be required, an initial assessment is carried out free of charge.
Provision of Equipment
The Handyperson Service is unable to provide materials for a job, these must be provided by the client. For example, replacement light bulbs and batteries must be purchased by the client.

The Handyperson Team carry a limited tool kit. Equipment such as ladders must be provided if it is required for the job.
How to Book an Appointment
To book an appointment, or to discuss the service, please call us on 020 7358 4077.

For general enquiries, please email handypersons@ageuklands.org.uk
Cancellations
If you cancel your appointment with less than one working days' notice, you may incur a cancellation charge.
Trusted Traders
For jobs too large for our handyperson service, or those requiring specialist expertise, our partner organisations offer other options which may be helpful.

Age UK London has a business directory with an extensive list of tradespeople, as well as other services from hairdressers to solicitors, and businesses that are specifically designed to help older people. The directory can connect you with local people that have been fully vetted and checked by Age UK London staff.