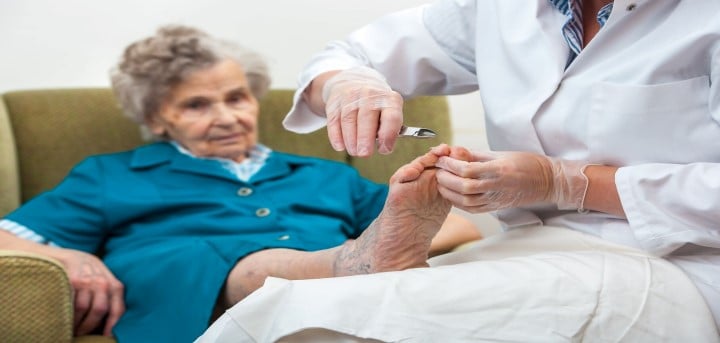 Appointments cost £19.50. At your first appointment, you will be charged for a nail kit which includes a set of nail clippers. Nail kits are £8. Fingernail cutting is available for an extra £4.50. You can also buy additional nail files and clippers from your Happy Feet worker at your appointment. If you cancel your appointment with less than 48 hours notice, you may incur a charge.
Please note, this service is not available outside Age UK Lewisham & Southwark - Head Office's catchment area.
Stones End Day Centre
11 Scovell Road
LONDON
Greater London
SE1 1QQ
United Kingdom
We provide a not-for-profit toenail cutting service called Happy Feet in venues across Lewisham and Southwark.
What Do We Do?
We provide basic toenail cutting and filing as well as cutting fingernails. Our staff are trained to a standard set by Southwark Foot Health Services in agreement with Age UK Lewisham and Southwark. They cut your toenails, check your feet for any problems and refer on to NHS services where necessary.
Who Is It For?
Our Happy Feet service is for anyone living in Lewisham and Southwark aged 50+.

Please be aware that certain medical conditions and medications may affect your foot health and result in you needing a more specialist foot care service.

If you have diabetes or take blood thinning medication such as warfarin, we will need consent from your GP before we can provide the service.

We are unable to provide the service if you are on steroid medication or have haemophilia.
Payment
Card payment can be taken over the telephone at the time of booking your appointment. You can also pay by cash or cheque at your appointment. If you are paying by cash, please have the exact money as we are unable to provide change. We are unable to take card payment at the time of your appointment.
Clinic Locations
We currently provide clinics in the following locations:

Blackfriars Settlement, 1 Rushworth Street, London, SE1 0RB

Darwin Court, 1 Crail Row, London, SE17 1AD

Southwark Resource Centre, Hitard Court, 10 Bradenham Close, London, SE17 2QB

St Luke's Church, Northover, London, BR1 5JR

St Margaret's Church, Lee Terrace, London, SE13 5DN

Stones End Day Centre, 11 Scovell Road, London, SE1 1QQ

Telegraph Hill Centre, Kitto Road, London, SE14 5TY

Tessa Jowell Health Centre, East Dulwich Grove, London, SE22 8EY

Time and Talents, The Old Mortuary, St Marychurch Street, Rotherhithe, SE16 4JE

Yalding Healthy Living Centre, 95 Southwark Park Road, London, SE16 3TY