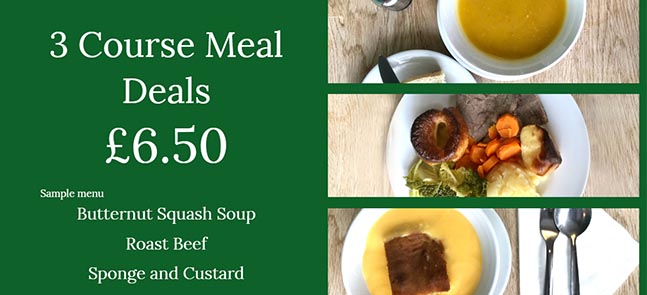 At Park Street Eatery we pride ourselves on offering home cooked meals at an affordable price.
Our menu changes daily and we feature special themed days and events!
Open Monday to Friday 9am-4pm
(Light refreshments available 3.30-4pm)
Come and meet old and new friends at our Park Street Eatery.
Our warm and welcoming restaurant offers a freshly cooked three course meal, plus a cup of tea or coffee.
We have paninis, sandwiches, hot meals and offer special themed menu days too!
Diners over 50 are welcome to bring a friend or younger family member with them.
A typical menu includes:
Homemade soup
Roast pork with apple sauce, roast potatoes and a selection of vegetables
Chilli con carne with rice or chips
Syrup sponge with custard or ice cream
Large selection of freshly made sandwiches
*If you have specific dietary requirements, please speak to a member of staff*
Events and catering
Our Eatery and hall are available to hire for functions and private parties. Competitive rates! Call Rosie on 03455 564 144 for more information