Platinum award from the Gold Standards Framework awarded to Holmfield Residential Care Home
Published on 07 September 2018 12:28 PM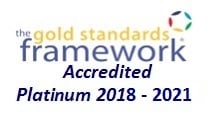 Our Holmfield Residential Care Home has received a Platinum award from the Gold Standards Framework, which recognises first class standards of care for people nearing the end of life. The Gold Standards Framework is about giving the right person, the right care, in the right place, at the right time, every time.

"We are delighted that our Holmfield Residential Care Home has been assessed at the 'Platinum' level within the Gold Standards Framework for end-of-life care," explained our Chief Executive, Ray Gridley. "I am exceptionally proud of the team's all-day, every day commitment to supporting residents and their families and carers through the last phase of a person's life."

Ensuring residents' needs and preferences feature at the centre of their care is an important component of receiving Gold Standards Framework accreditation. Mrs M, a Holmfield resident, says, "I feel happy that I have been able to speak to staff about my wishes and what will happen to me in the future. This has put my mind at rest."

The Platinum status recognises the sustained practice to maintain the Gold Standard Framework since first being awarded the standard in 2014. Holmfield will hold this award for the next three years and, in the process, will continue to embed the Gold Standards Framework ethos into everyday practices, enabling the team to continue to provide a platinum standard of care for all people nearing the end of their life.