We're partnering with Freesat to donate 4K set-top boxes to isolating older people in Manchester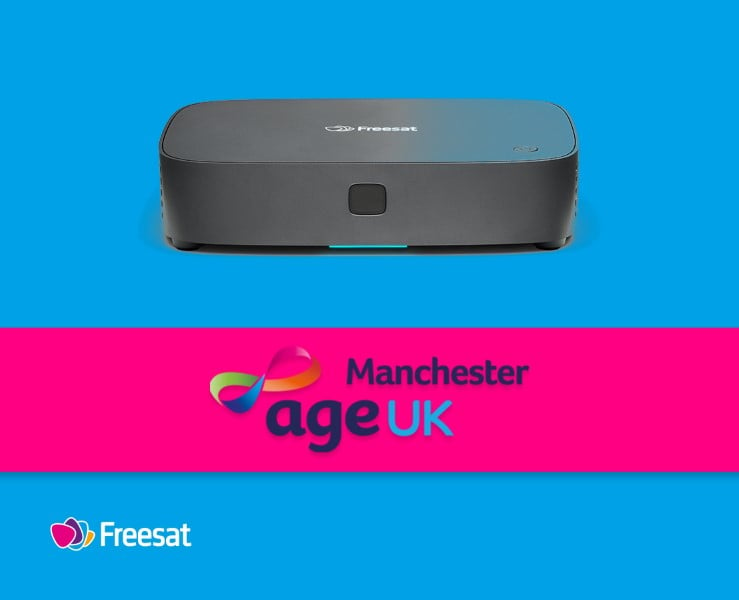 Published on 24 June 2020 11:51 AM
Satellite platform aims to keep the isolated and lonely connected during lockdown
Even with the lockdown restrictions being eased, many older people in Manchester still face long periods of social isolation away from friends and family, coupled with the fear of a potential second wave of coronavirus. This is why satellite TV service Freesat has partnered with us to donate Set Top TV Boxes to older Manchester residents. The partnership aims to keep older people more connected and entertained, in the hope that it might reduce feelings of loneliness caused by social isolation.
We've seen a significant increase in demand for support over the last few months. In the twelve weeks, our teams have distributed 2,247 emergency packs, grocery orders and prescriptions and made 3,689 telephone welfare calls to vulnerable, isolating older people.
TV is a vital source of news, information and companionship in these unprecedented times and for this reason, Freesat has donated 60 4K non-recordable TV boxes to us and hopes that the boxes - which provide access to over 180 channels - will help to keep the most vulnerable people aged over 65 in touch with the world.
Isolation and loneliness are already at epidemic levels nationally, particularly amongst older people. Manchester has been identified as a particular hotspot for the issue; Age UK data shows the city has the third highest number of lonely older people in the UK. Specifically, the wards of Ardwick, Ancoat and Clayton, Miles Platting and Newton Heath have been identified as being at 'very high risk' by Age UK – even before the terrible effects of COVID-19.
Alistar Thom, Managing Director of Freesat commented:
"Age UK Manchester does a fantastic job in helping Manchester's elderly community and after hearing about the work they do, we wanted to help out. Despite lockdown restrictions being lifted slowly, those over 65 are expected to be isolating for longer than the rest of us, making this group even more vulnerable to loneliness.
"Whilst loneliness is a complex issue, television and entertainment can play an important role in making us feel united and connected to the outside world. We hope that this gesture, while small, might help in reducing feelings of social isolation for this age group."
Sally Dervan, Chief Executive of Age UK Manchester, also commented:
"Loneliness is a particularly serious issue for Manchester's older people. Aside from having the third highest population of lonely older people in the UK, the city also has a lower-than-average life expectancy, which means there is a constant need for support services like ours."
"Demand for these services have increased significantly during the pandemic and the risk for social isolation amongst older people is higher than ever. We welcome any support that might help the over 65s feel more connected to the world and reduce feelings of loneliness as a result."
To qualify for a FREE 4K set-top box, you must:
have a satellite dish already installed on the property,
have a TV that is capable of receiving satellite TV (i.e colour TV at least),
be isolating, shielding or living on your own, and
be a Manchester resident who is over 65 years old.
If you meet the above criteria, please contact the centre closest to you to arrange delivery of your FREE 4K set-top box:
North Manchester
Openshaw Resource Centre
10 Catherine Street
Openshaw
Manchester M11 1WF
0161 205 3851
Central Manchester
Gorton Care Centre
Melland Centre
Mount Road
Gorton M18 7QR
0161 223 6062
South Manchester
Crossacres Care Centre
Peel Hall Road
Wythenshawe M22 5DG
0161 437 0717
Huge thanks to Freesat for their generosity at this challenging time.
Stocks are limited and will be donated on a first come, first served basis. If you do not meet the eligibility criteria, we cannot provide you with a free set-top box.