Ageing Well South and Wythenshawe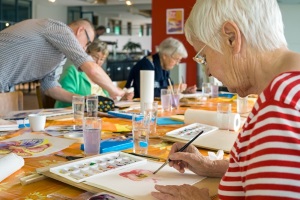 Ageing Well South offer an informal taster programme designed for people aged 55+ who are interested in opportunities to socialise.
The aim of the programme is to improve mental wellbeing by affording participants a positive setting and a chance to focus on an interesting activity.
Taster sessions give the opportunity for participants to try out different creative activities they may not have tried before in a friendly and encouraging environment.
The sessions are adapted to suit the interests of participants and are delivered at a level to meet the needs of people with little or no experience.
The programme of activities is negotiable and we actively encourage groups to choose and design their own programme. Activities can include Art and Crafts, exercise and quizzes. At the end of the programme we signpost participants to activity groups and other organisations in their locality.
The positive outcomes of the programme are that participants
Gain confidence
Have fun
Forge friendships
Have a sense of achievement
May become involved in further community action such as volunteering or leisure pursuits
Experience a general feeling of wellbeing
For more information or to book on any of the groups available, please contact:
Crossacres Care Centre
Peel Hall Road
Wythenshawe M22 5DG
Tel: 0161 437 0717
Crossacres Outreach
A sense of community is very much at the heart of the work carried out by Age UK Manchester through Crossacres Resource Centre. Where possible, opportunities to nurture this spirit - on our own terms or in partnership with others are looked to. Some of the ways outreach projects or activities have been realised include:
Aging well taster session
A large part of the Ageing Well project coordinated by Age UK Manchester operates from Crossacres Resource Centre in Wythenshawe. Promoting positive attitudes and outlooks on ageing by placing social emphasis on the issue. Many different activities and clubs take place in South Manchester; at independent housing schemes, church and community halls and at Crossacres Resource Centre in Wythenshawe. From quizzes to arts, crafts and reminiscence activities, a network of Ageing Well workers and volunteers-that support the organisation extensively have been parted to some real successes in Ageing Well.
Ageing Well Taster Sessions are available to existing groups or premises; presenting opportunities to socialise within peer groups. For more information please contact the Ageing Well Team via Telephone: 0161 437 0717
Laundry service
Laundry Service
Washing piling up? Struggling to dry your washing? Can't get to the Launderette? We will collect, wash, dry and redeliver your washing for a very reasonable rate. Don't let your wash day get you down!
Please telephone 0161 437 0717 and ask for Michelle McKinney for more information. Queries can also be directed via E-mail: michelle.mcKinney@ageukmanchester.org.uk.
Partnership Work
Partnership work
Come Dancing and Afternoon Tea events.
Age UK Manchester and South Manchester Healthy Living Network (Manchester Mental Health & Social Care Trust) have been working in partnership for over 4 years to deliver a series of Come Dancing and Afternoon Tea events for anybody aged 50 or over at a range of venues across South Manchester. The work is supported by Wythenshawe Regeneration Team and the Valuing Older People Network Manchester.
Come Dancing events are one-off days to promote dancing as a healthy activity, to provide relevant and appropriate information on health & well-being issues affecting older people, and to promote activities in Wythenshawe. Perhaps most importantly, the events bring people together for a day of dancing, music, good food, and an atmosphere rooted in friendship and fun.
Volunteers from Age UK Manchester and the Healthy Living Network are readily on hand throughout these events; supporting, facilitating and encouraging interaction and involvement.
Afternoon Tea events are smaller affairs, the aim; to provide information about services that are accessible and to the benefit of older people locally. The setting is intentionally light-hearted and relaxing-a delicious afternoon tea served in a local venue; accessible and comfortable.
A number of representatives from services that support older people (clubs, societies, transport executives, local authority) are invited to present their information in a 'speed dating' format, moving from one table to another to promote and more importantly discuss and handle questions pertaining to their services.
Refreshments are available throughout.
Working in this way has really been the key to the success of these projects. The development of working relationships has resulted in collaboration on other projects; Health Days, the Garden City Festival and Wythenshawe Games, maximising engagement opportunities for older people in community events and activities.
We are keen to engage in partnership work, take on new ideas or support existing clubs and projects where possible. Please do not hesitate to contact us via Telephone: 0161 437 0717 to discuss this. Alternatively you can direct queries via E-mail: michelle.mcKinney@ageukmanchester.org.uk.