Professional service in a friendly environment.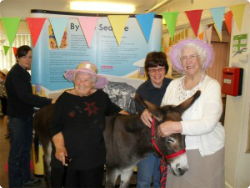 The aim of our Day Care Centre is to provide a professional service in a friendly environment, with proper respect for our client's health and welfare. Our objective is to help our client's to socialise, participate in activities and have access to services such as Chiropody, hairdressing and opticians.
The Gorton Day Centre is situated on Mount Road, Gorton and is a friendly place which gives people the opportunity to socialise and try new activities.
The opening hours are Monday to Friday between the hours of 8.30am and 4pm. If you require transport to and from the centre you will be collected between 9am and 10am, the transport leaves the centre at 3pm for the return journey home. Sometimes a relative or carer will bring a client into the centre if this is more convenient.
Our staff and volunteers aim to make our centre a warm and welcoming place to meet new friends. In the morning we usually have a chat, getting to know any new people, while having a warm drink and toast. The daily newspapers are available to anyone wanting to read them, later in the morning we have a quiz, word game or an activity such as armchair exercises.
Around 12:30 a hot two-course lunch is served. We are able to cater for most dietary requirements. In the afternoon we have a wide range of activities going on. It is up to the individual if they wish to take part, or just sit and chat with friends. Our activities are varied and entertaining, the range of activities include, Reminiscence sessions, quizzes, sing-alongs, arts and crafts and of course the ever popular bingo. Professional entertainment is provided on a number of afternoons, and always goes down well.
You will be able to choose which activity if any that you wish to join in. We will respect your choice. In the afternoon tea and biscuits/cake is served before being taken home at 3pm. We celebrate special events in our client's lives, such as birthday and wedding anniversaries.