Home Care - South Manchester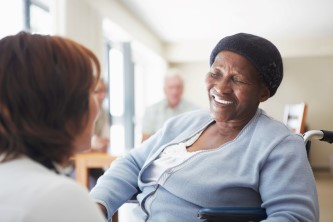 The above fee is per hour for clients paying privately. Please see below for further information about our fees.
Our team of experienced, understanding carers provide personalised support, putting clients' needs at the heart of what we do.

For over 20 years our Home Care Service, covering South Manchester and surrounding areas, has helped older and disabled people remain independent in their own home with high quality care and support.
We can help with:
• Bathing
• Trips out
• Laundry
• Shopping
• Meal preparation
• Personal care
• Housework
• General support
• Night sitting
• Carer respite

Our carers give clients time and attention – an essential component of a caring service. We ensure our clients are treated with courtesy, dignity and kindness; that they feel listened to and that their views are respected regarding their care.

We understand the importance of having consistent care and will do all we can to see that you or your loved one is cared for by the staff you know each visit. All of our carers are trained and thoroughly checked before they are given responsibility for delivering support.

The service is available 365 days a year. Our service is for anyone over the age of 18 and we particularly specialise in the care of older people.

We are also members of the National Association of Hospices at Home as providers of end of life care.
Our charges:
We charge a competitive and affordable rate for this service. If you need personal care but are not in receipt of Attendance Allowance, we can refer you to our Information and Advice Service who will look at a range of options for helping you to pay for the support you need.

To arrange an assessment or to find out more about our Home Care Service, please get in touch.
CQC Rating:
In 2018, Age UK Manchester's South Home Care Service was rated 'Good.' To find out more about this rating, visit the link below.
https://www.cqc.org.uk/location/1-125835525?referer=widget3
Contact us:
To find out more about this or any of our other services, get in touch using the details above. Or call our Advice Line on 0161 833 3944 or enquiries@ageukmanchester.org.uk