Age UK North Tyneside Volunteer famed in Taiwan
Published on 22 June 2018 02:20 PM
Volunteer gains column inches in Taiwan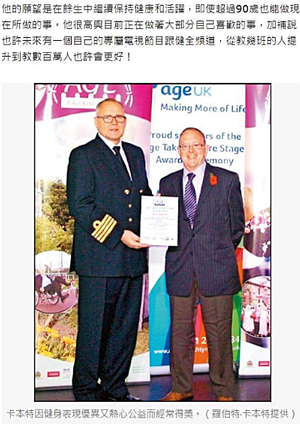 Robert (Bob) Carpenter is 75 years young. Anne his wife and he have been supporting older people for over 30 years. Bob has been volunteering for Age UK North Tyneside for 7 years. The 'music man' as he's known currently teaches seated exercise and Tai Chi in the Cedar Grove Wellbeing Centre, Wallsend.
When he retired Bob didn't want to be "an old man in the pub playing dominos", so he went to Newcastle College and achieved a couple of professional qualifications. One was 'Fitness Gym Instructor' and the other one 'Exercise to Music'. He then offered his support in sheltered homes offering structured fitness classes, all on a voluntary basis. He has now gained notoriety in Taiwan for his efforts. One of Bob's fitness students Winnie Hu wrote an article on his support of older people in North Tyneside and had this published in Taiwan.
Bob says of volunteering "I like meeting new people. I'm pretty fit myself and I like to encourage other people to get fit and experience a better life. I've learned from some of the customers, I learned how to sketch a couple of years ago, I've never sketched in my life until recently! I found that quite enjoyable".
Bob has been nominated for Age UK North Tyneside's top volunteer accolade on several occasions. He's also been a torch bearer in the Olympics. "I've always loved music that's why I do a sing along. Primarily I'm a gym fitness instructor, that's my primary qualification, my secondary one is exercise to music. You can't always get disabled people to join in so, if there are enough participants then it's also chair-based. So I can do a full body workout, starting with the feet going right up to the head. I also do Tai-Chi.
Volunteering gives me a good feeling, a really good feeling. I feel like I've succeeded in something. When I'm not around they ask 'where's the Music Man?"