No Cold Calling Card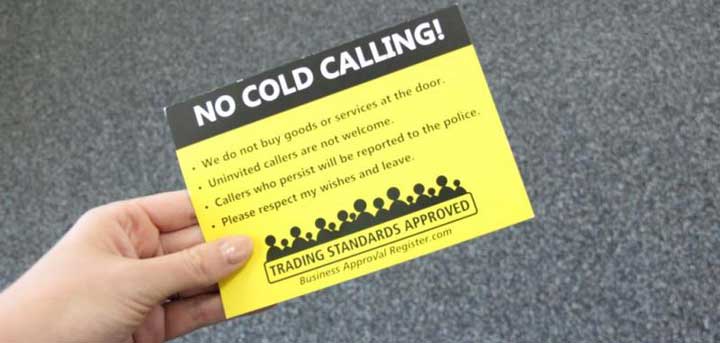 Published on 30 August 2019 03:38 PM
Cards stating uninvited callers are not welcome are available for residents to display in their front door window from North Shields, Wallsend, Whitley Bay and Killingworth Customer First Centres. A limited number are also available from Age UK North Tyneside at the Bradbury Centre, 13 Saville Street West, North Shields, NE29 6QP or you can download and print your own from the link at the bottom of this page.

Councillor Carole Burdis, North Tyneside Council's Cabinet Member for Community Safety and Engagement, said: "Our advice is to never deal with door-to-door sales people. This particular case is a well-known scam where the cold caller attempts to sell household products for many times their original value. If you are visited, don't be embarrassed to simply say 'No' and ask them to leave."

Enquiries by Northumbria Police established that the door-to-door salesperson was not operating as part of a Probation Service scheme.

Chief Inspector Rob Bosson, of Northumbria Police, said: "If someone comes to your door asking you to purchase items, please do not be pressured into buying from them- you have the right to ask them to leave. You can also use security measures such as looking through a spy hole or window, or use a door chain, to have a look at the caller before answering the door. If you do not recognise them, speak through the closed and locked door. Never be afraid to ask for identification and never let anyone into your home who you are unsure about. We want to reassure the public that we take these types of crimes very seriously and actively investigate any reports."

Uninvited callers who do not leave can be reported to the police on 101 or by visiting their website www.northumbriapolice.co.uk which also has further advice on crime prevention.
IF IN DOUBT KEEP COLD CALLERS OUT
To report a cold caller contact Citizens Advice on 0345 404 0506 or the Police on 101.
In an emergency always call 999

The Trading Standards service is delivered for North Tyneside Council on behalf of its partner Capita.
No cold calling notice
Print out and display on your front door window